Marc Anthony Gets Life's Last Laugh (But He's Not Laughing!)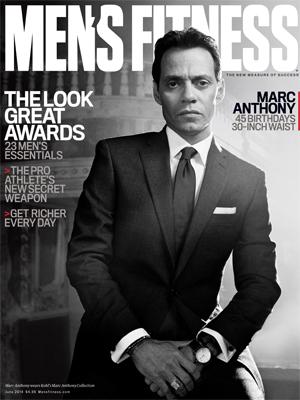 Grammy-winning singer Marc Anthony's road to international fame, acclaim and riches, to paraphrase Queen, was no bed or roses or pleasure cruise. The man described as a Latin Frank Sinatra, and sold more than 12 million albums around the globe, opens up about the adversity he faced in his life and career in June's issue of MEN'S FITNESS.
Like many kids these days, Anthony was bullied as a child, but isn't one to gloat about who had the last laugh.
Article continues below advertisement
"Those people who picked on me probably got their ass kicked in the present day," he said, noting that in spite of his innumerable success in the entertainment world, he's "more proud of the work that his foundation (Maestro Cares) is doing, to be honest."
Click Here To Download Uforia, The Best App For Latin Music & Discovery, on iTunes
Anthony, 45, took the same thick skin and stick-to-itiveness he had earlier in life and applied it to his career, where he's gone on to become a legend in Latin music.
Google Play Users, Click Here To Download Uforia
"I have a lot of stories to tell. I got smacked around early on, and it was hard, but to me it was part of the game," he said, looking back. "As blessed as I am, my heart goes out to any artist who has to do it on his own."
For more of with Marc, you can catch an upcoming interview on the premiere Latin music app Uforia, downloadable for both iTunes and Google Play. Marc's chat with Uforia's Enrique Santos airs Monday 8 a.m. EST on Mix 98, with a second listen at 5 p.m. via the Uforia app.
And of course, check out June's issue of MEN'S FITNESS, available now at newsstands everywhere. For more, go to mensfitness.com.