Flowing Champagne, A Toast In Italian & A 'Diet' Cake -- Inside Kimye's Outrageous Wedding Brunch At Valentino's French Chateau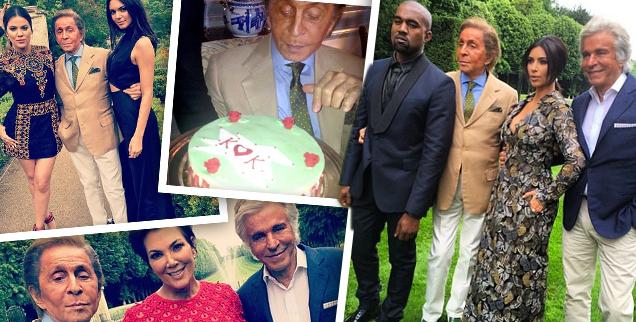 Article continues below advertisement
"Out stepped the bride-to-be in a long gray and oxidized Valentino bronze lace dress with the most beautiful gray suede stiletto court pumps, her hair in a ponytail and her beautiful daughter, North, in her arms dressed in anthracite gray and tights, no shoes," Leon Talley wrote
"The groom escorted his bride-to-be—also in Valentino, made cool with a black leather shirt buttoned to the top, and black shiny oxfords. As the staff, about five men in black suits, stood with green umbrellas in the misty drizzle, the black fleet of cars continued to pour out Kardashian family and friends."
Kim spoke about her joy at the celebration, saying: "There's nothing better than sharing a great moment with people you love, it becomes a special memory."
Kimye Wedding LIVE! — See The Latest Pics From The Wedding Extravaganza
North's mama feed her almost one-year-old daughter between the first and second courses, but she was hardly eating herself at all.
"As she sat down, she took a small bite of the goat cheese in a puff pastry as Khloé took holding duty. By dessert time, North was nibbling on Valentino's dark chocolate from a beautiful dish, and I heard her say "Pa," looking for her father," he said about the potentially talking baby.
Article continues below advertisement
"The lunch was intimate, with a first course of artichoke hearts salad and poached egg with hollandaise. The second course? A baked sea bass with zucchini sliced to simulate fish scales, a mix of vegetable tempura (also a favorite of North's, who tried with her few teeth coming in to chew on a slim carrot slice), and a typical saffron risotto Milanese," Leon Talley noted.
The dessert course was mouth wateringly describe by Leon Talley as " a decadent "fraisière, a cake that said "Kanye and Kim" with arrows and hearts in a sugar-free cake, made with Xyla, as substitute for sugar. 'It's my dietetic cake, said Valentino, made of green apples and strawberries. The pièce de résistance was the blown sugar bowl, something out of this world of marvel as subtly filled with peach and lychee sorbet."
With champagne flowing, Valentino raised his glass and spoke to the guests at the end of the luncheon.
"I would love to toast these two beautiful people here before me. And I also want to thank Kris Jenner for having these beautiful girls. These girls make my dining room even more beautiful," he said and Leon Talley said Valentino's next words, in Italian, brought tears to his eyes.
"I wish you much success, a lot of love, and a long life."