Exclusive
Caught In A Lie! Kim K. IS Filming Wedding For 'KUWTK' But Telling Guests It Is Her 'Own Videographer'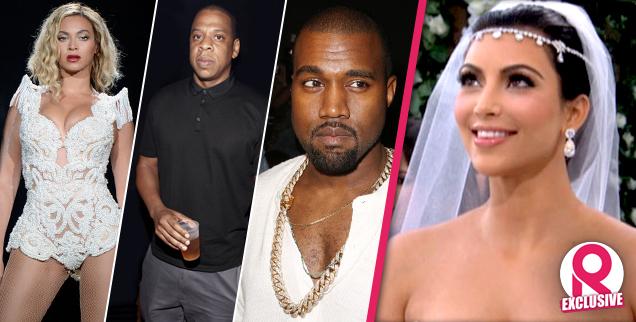 Article continues below advertisement
"Yes, Kim did publicly say that they were keeping the wedding private, but momager, Kris Jenner, was able to persuade the couple to allow cameras to film. The couple will have the final say about how much of the event makes it onto the show."
As RadarOnline.com previously reported, Beyoncé has made it known that she was hesitant to attend the wedding because she didn't want to appear on camera for the show, and the songstress was reassured after the reality starlet revealed there would be no filming at the nuptials.
However, Queen Bey is in for a surprise now.
"Guests will be asked to sign waivers allowing them to be filmed. Beyoncé and Jay Z will NOT be asked to sign the forms, and the crews have been instructed not to film them ," the source revealed.
"Kim will tell camera shy guests that the filming is their own videographers capturing the day and not for broadcast, which is a white lie. The camera crew is from Ryan Seacrest Productions, which produces Keeping Up With The Kardashians. Since when is Ryan Seacrest in the personal wedding videographer business?" the source told RadarOnline.com.
Article continues below advertisement
Only portions of the wedding and reception will air on Keeping Up With The Kardashians , our insider added.
The couple has held their cards close to the vest, in part to thwart the excessive media attention devoted to the affair, as even those invited haven't been given any concrete details as to where or when they will actually be pronounced man and wife.
Sources said invites have only been directed to the Chateau Louis XIV, a Parisian palace with modern amenities, one of which will be — at the Yeezus rapper's request — a pool filled with pink water. With a major sewage facility not too far from the venue, the couple will have strong air freshening system installed for the big day.
It had been widely reported that Kimye would be getting married at the iconic Palace of Versailles, outside of Paris.
REVEALED: 35 Secrets The Kardashians Want Hidden
However, Catherine Pegard, president of the Palace of Versailles, released a statement denying the couple would marry in Marie Antoinette's former home.
"Kim Kardashian and Kanye West have decided to visit the Chateau of Versailles with their guests in a private surprise tour organised for Friday, May 23rd, on the eve of their marriage.
Article continues below advertisement
"In making this choice, they will contribute once more to a better understanding of Versailles, and will help to maintain the exceptional heritage of Versailles, which is classed as a world heritage site by UNESCO."
The mega-stars will indeed exchange vows in Florence, Italy as well, as the city holds special relevance to them, as it was where they conceived their daughter North. That said, authorities in Italy said no formal plans have been made in regards to a civil contract required for legally-binding weddings, essentially meaning that whatever event is held in the area will be strictly for show, at least under local jurisdiction.
Our sources also revealed, "Kim is extremely stressed out about the wedding. She wants everything to be perfect, and there have been last minute glitches, including an air traffic controller strike in France which could cause a nightmare for their guests flying to Florence for the wedding. It's going to be at least five days of parties, events, luncheons and dinners. They are going very, very big for the wedding, and it's a very exhausting for Kim."