Kiddie Cult? Young Hollywood Enraptured With Shady Guru Tied To Sex, Drugs & Bioterrorism!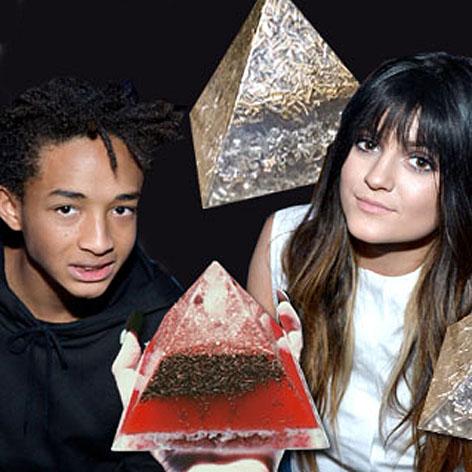 Nightclubs, fast cars, and designer clothes have long defined Young Hollywood, but a small group of A-list kids including Kylie Jenner and Jaden and Willow Smith have bucked the trend and begun filling up their instagram with posts about meditation, philosophy and spiritual pursuits. Calling themselves the "Orgonite Society," the teens seem to have bonded over their pursuit of knowledge. But RadarOnline.com has learned that the teachings they are studying have possible ties to a cult known for promiscuous sex, drug use, and bioterrorist activity! Should their parents be worried?
Article continues below advertisement
According to a new report in , former Hannah Montana star Moises Arias introduced the Smith kids to the teachings of controversial cult leader Bhagwan Shree Rajneesh, known to his followers as Osho. Arias, Jaden, and Willow have all been spotted reading books by the guru in recent weeks.
But perhaps they do not know that Osho was also known as the "sex guru" when he lorded over a 2,000-member Dalles, Ore., commune in which drug use and sex were rampant, Star claims.
And that's not all — According to Star's report, "Members of his cult were convicted of a bioterror attack after infecting 751 people in Dalles with salmonella."
An insider tells Star the teens have dived head-on into the guru's philosophies. "Because they are vulnerable and looking for something to believe in, they find the cult's ideals intriguing," the source said.
Though raised Scientologist, "Jaden has really dived headfirst into this radical movement. He thinks he is a 'philosopher' and Willow is just as into it," the source said. Jaden's clothing line, MSFTS, has posted several instagram and Twitter messages about the "Orgonite Society."
Article continues below advertisement
Indeed, RadarOnline.com has learned that both teens have posted pictures of themselves making bizarre "orgonite" pucks, meant to balance energy and cleanse a space, even supposedly defending against alien invasion, according to enthusiasts.
Jaden, in particular, has boasted about having several orgonite pyramids:
And even Jenner pledged her allegiance to the kiddie crew by posting a pic of herself holding an orgonite pyramid on April 28 with the word "love":
For more on why an insider says their parents should be worried, pick up the latest issue of Star, on stands now!