Will The Real Boyfriend Please Stand Up? Kylie Jenner Steps Out With Lil Twist, Week After Holding Hands With Jaden Smith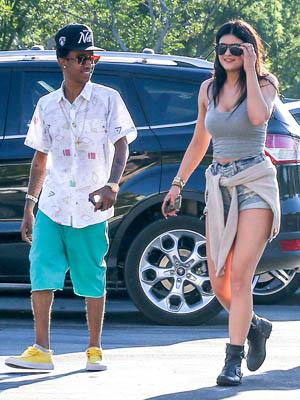 Kylie Jenner stepped out with Lil Twist on Tuesday, amping up the impression that Justin Bieber's pal and Jaden Smith are competing to be her boyfriend, and RadarOnline has the details.
It's the second time in recent weeks that Kylie, 15, has been spotted with Lil Twist, 20, who is best known for hanging with the Beebs, especially when headline-making bad things happen!
Just weeks ago Kylie was spotted holding hands with Jaden Smith, 14, as RadarOnline.com reported. At that point it appeared Will Smith's son was the only romantic interest in the life of Kim Kardashian's sister.
Article continues below advertisement
But maybe Kylie prefers an older boyfriend?
Lil Twist wasn't dodging photographers when shot with Kylie on Tuesday.
Kylie has denied ALL romances so far! "Why am I dating every male I hang out with I don't understand," she wrote earlier.
"Media always making it seem like I'm dating everyone I'm seen with. Makes no sense to me."
Well it made sense to Jaden when he was holding her hand, and it appears to make sense to Lil Twist, who scored a second date.
Let the competition begin!