Wonder If Will Approves? Jaden Smith On Hand-Holding Date With Kylie Jenner After His Father's Kardashian Snub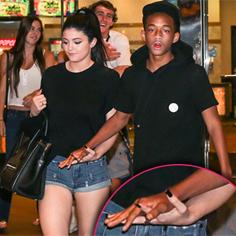 There's no denying it anymore – Jaden Smith and Kylie Jenner are dating – but poppa Smith may not be too happy about it!
After attempting to keep their relationship under wraps and dodging dating rumors for several months, the After Earth star and Kim Kardashian's youngest sister were snapped holding hands after a movie date in Calabasas – despite Jaden's blockbuster father Will snubbing the reality family in a recent interview – and RadarOnline.com has the photos.
Article continues below advertisement
Jaden, 14, and Kylie, 15, took in a showing of Brad Pitt's World War Z at the Calabasas Commons movie theater near both of their California homes, exiting the cinema with their hands clearly linked together. As soon as they saw the flashbulbs go off, however, the young lovers appeared a bit bashful and quickly broke apart.
During a recent interview with New York Magazine's Vulture, Will and Jaden were asked if their family was similar to the Kardashians when it came to "treated their fame as a family business," and Will had some not-so-nice things to say about Kris' clan, insinuating that they exploit and orchestrate the media.
"So how do you think your life is similar or un-similar to people's names in Calabasas?" Will responded to the interviewer in a "mimicking" voice.
"For our family, the entire structure of our life, our home, our business relationships—the entire purpose is for everyone to be able to create in a way that makes them happy. Fame is almost an inconsequential by-product of what we're really trying to accomplish. We are trying to put great things into the world, we're trying to have fun, and we're trying to become the greatest versions of ourselves in the process of doing things we love. So the idea of fame or exploitation or orchestrating the media is sometimes even less than desirable for us."