Exclusive
Justin Bieber's Bodyguard Suffers Legal Setback In Paparrazzo Lawsuit -- Civil & Criminal Cases Proceeding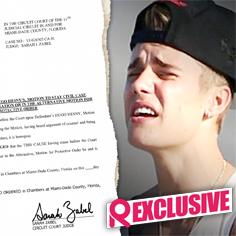 Justin Bieber's bodyguard, Hugo Hesny, asked a Miami judge to delay a civil lawsuit against him because he is under criminal investigation in connection with the alleged assault of a photographer, but the motion was denied, according to court docs exclusively obtained by RadarOnline.com.
On May 1, Judge Sarah Zebel formally denied the request and the lawsuit will proceed as scheduled.
According to documents previously filed in the case, lawyers for Bieber's muscle revealed how the shutterbug at the center of the case, Jeffrey Binion, had filed a formal criminal complaint with the Miami Dade Police Department and the Miami Dade State's Attorney's Office.
Article continues below advertisement
"As a result, Hesny is currently under investigation… regarding the same allegations in the civil case," the attorneys said in a filing.
Hesny had begged the judge on the grounds that "allowing his civil case to proceed while his criminal investigation is pending violates his Fifth Amendment privilege against self-incrimination."
The photographer's attorney, Mark DiCowden, previously told the judge that he has documented at least 11 similar alleged assaults against photographers over two years involving Bieber and his security personnel.
DiCowden said a punitive damage award for Binion could deter future assaults against celebrity photographers, known as "paparazzi." However, the judge sided with the pop brat's bodyguard and determined the photographer couldn't recover punitive damages at trial.