Exclusive
Model Partnership? Jennifer Aniston Wants To Work With Fiance Justin Theroux On Zoolander Sequel — Or Musical!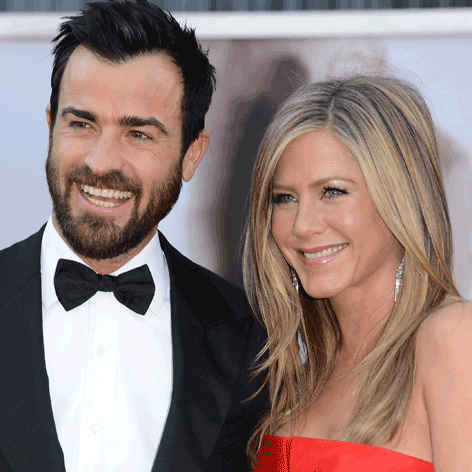 Jennifer Aniston wants to work with fiance Justin Theroux on a Zoolander project, RadarOnline.com has learned.
For years, Theroux has been trying to write and direct a Zoolander movie sequel that would have Ben Stiller reprise his wacky male supermodel character. But now, Theroux has the Friends star behind him as he decides whether to do the project as a movie or a stage musical, a source said.
"If a second Zoolander film gets made soon, Jennifer wants to be in it," the source, who has known Aniston for years, told Radar.
Article continues below advertisement
"But if a Zoolander musical gets off the ground instead, Jen wants to make money off of it. She's finally coming around to the idea of her and Justin teaming up on projects, because she was stubborn about it for a while, but it was actually the same situation when she was with former husband Brad Pitt. It took her a couple of years to see the good sense in collaborating with him, too."
In 2010, Theroux, 42, was announced to write and direct a proposed sequel to the popular 2001 cult comedy starring Stiller and Owen Wilson as models caught up in an international plot. Theroux played a small part in the movie as an evil DJ.
But the Zoolander follow-up project has stalled, with Stiller telling ShortList magazine last year, "Right now, it's on hold. There's a script we like, but....I want to make sure we do the sequel the right way."
Theroux's career has faced some setbacks recently, as his screenplays for Iron Man 2 and the Tom Cruise bomb Rock of Ages were widely panned.
Still, Aniston, 45, who met Theroux in 2011 while making the movie Wanderlust, couldn't be more supportive.
"Justin wants to write a proper Broadway show, and has been playing with some ideas, thanks to Jen's encouragement," said the source, who added that even though Theroux still has every intention of directing a second Zoolander film, "He's worked on the idea of Zoolander as a stage musical and coming up with some funny concepts that have made Jen an even bigger fan of his work.
"Justin's big future showbiz plans might involve Jen more than initially believed," the source revealed.