Shocking Jackie Kennedy Letters To Be Sold At Auction: She Revealed To Priest Worries John Would Cheat And Admits She Became 'Bitter Against God' After His Assassination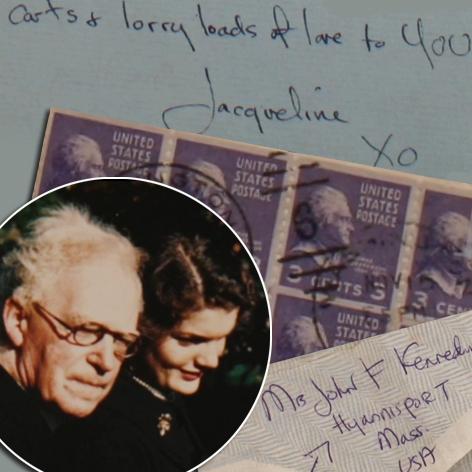 Jackie Kennedy closely guarded her personal life after leaving the White House following her husband's assassination, but a treasure trove of newly unearthed letters reveal deeply intimate thoughts from the former First Lady, from her shocking fears about her husband's cheating to her anger at God after his death.
The letters, accumulated over a 14-year-long correspondence Jackie had with Father Joseph Leonard, a Vincentian priest whom she met twice, will be sold in an upcoming auction in Ireland and they provide a rare glimpse into her thoughts before, during and after her marriage to John F. Kennedy, according to the Irish Times.
Article continues below advertisement
Beginning with her first letter in 1950 and ending in 1964, Jackie confessed her innermost thoughts to the Catholic priest.
Plagued by infidelity rumors throughout their marriage, Jackie clearly was concerned that her husband would not be faithful after marriage and told Father Leonard she was in love with "the son of the ambassador to England" in 1952, but expressed concern he might cheat on her the way her mother was cheated on.
"He's like my father in a way – loves the chase and is bored with the conquest – and once married needs proof he's still attractive, so flirts with other women and resents you. I saw how that nearly killed Mummy," she wrote.
Set to be auctioned by Sheppard's Irish Auction House in Ireland, the letters are expected to bring over $1 million.
Jackie, known as the most glamorous of all the First Ladies, confessed that she was enticed by the sophisticated world into which she was entering.
Article continues below advertisement
"Maybe I'm just dazzled and picture myself in a glittering world of crowned heads and Men of Destiny– and not just a sad little housewife . . . That world can be very glamorous from the outside – but if you're in it – and you're lonely – it could be a Hell."
The most heartbreaking letter came after the President was assassinated in Dallas in 1963 when the devout Catholic admitted to Fr. Leonard that she became "bitter against God."
"I have to think there is a God – or I have no hope of finding Jack again."
Known for a sly wit she added a bittersweet line, writing: "God will have a bit of explaining to do to me if I ever see Him."
The auction house spokesman Philip Sheppard told the Irish Times the letters are "the dream find of a lifetime for an auctioneer" and they included "simply astounding fresh insights that transform our understanding of Jacqueline Bouvier Kennedy".