Hot Air Balloon Bursts Into Flames, 'Help Me I'm Going To Die' Victim Screams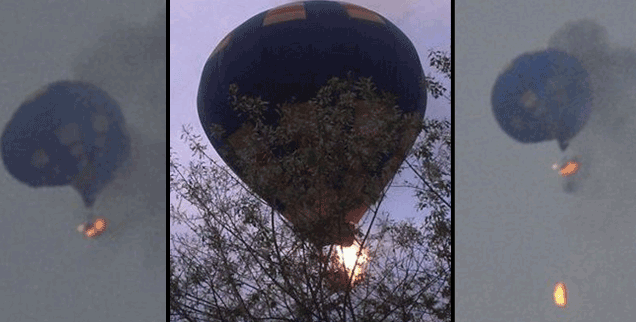 A hot air balloon with three passengers burst into flames late Friday. Horrified witnesses heard the passengers screaming for help as the gondola separated from the balloon and crashed to earth.
So far only the remains of only two of the victims in the Richmond, Virginia disaster have been recovered. The third victim is still missing.
The balloon hit a power line, reports WTVR. Eyewitnesses immediately heard explosions and heard the frantic cries for help from those aboard.
Article continues below advertisement
"They were just screaming for anybody to help them. 'Help me, help me, sweet Jesus, help, I'm going to die - oh my God, I'm going to die,'" Carrie Hager-Bradley told NBC12 .
Law enforcement has not yet disclosed the names of the two passengers and balloon's pilot but the local newspaper, the Henrico Citizen, has reported that the passengers were both on the University of Richmond's athletic staff. The school has yet to comment on that but scheduled athletic events at the campus were canceled on Saturday.
The balloon that crashed was taking part in the Mid-Atlantic Balloon Festival which was to continue through the weekend but has now also been canceled in light of the tragedy.
Come back to RadarOnline.com for more on this developing story.