Exclusive
Gwyneth Paltrow's Complicated 'Social Network'! After Marital Split, She Gets Cozy With Kate Mara's British Boyfriend Max Minghella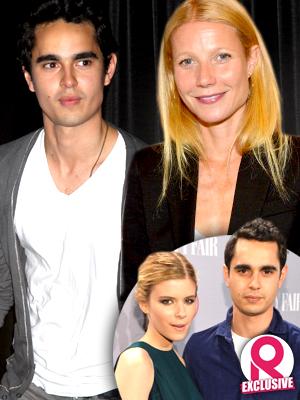 Gwyneth Paltrow's social network is getting complicated, RadarOnline.com has learned.
After her split from husband Chris Martin, the Goop goddess, 41, has reconnected with an old friend, The Social Network star Max Minghella, 28, a source revealed.
But Minghella, who has dated House of Cards beauty Kate Mara, 31, on and off for four years, is still firmly on Mara's arms.
REVEALED: The Top 30 Secrets & Scandals Gwyneth Paltrow Doesn't Want You — Or 'Vanity Fair' To Know About
Article continues below advertisement
Now-unattached mom-of-two Paltrow, however, "jokes that she wants to adopt Max," the source added.
Minghella, who, like Martin, is British, is the son of Paltrow's late friend Anthony Minghella, who directed her in The Talented Mr. Ripley.
Lately, Paltrow "has allowed Max to use her ritzy Los Angeles house when she's not staying there, as he usually lives modestly in Hollywood."
Although their relationship is so close that Minghella frequently crashes at her house, however, insiders aren't expecting friendship to turn into romance for Paltrow and Minghella.
The actor was recently spotted going on a lovey dovey coffee run in Manhattan with Mara, who will next play the invisible woman in the Fantastic Four reboot.
However, the source said: "Gwyneth continues to promote the close relationships she has in L.A. with friends like Max pretty much as a way to remind people that she's done with London, where she'd lived during her marriage to Chris.
"She doesn't have a lot of friends in L.A. yet except for Cameron Diaz and Jennifer Aniston, who are always filming."