Exclusive
Married With Children 'Boot Camp'! Overwhelmed New Mom Drew Barrymore Turns To Christina Applegate For Baby Advice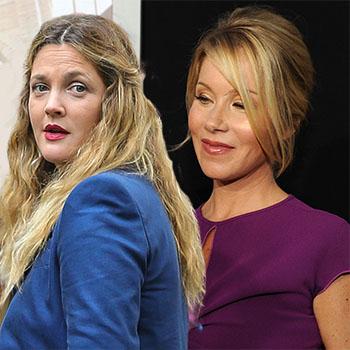 Article continues below advertisement
While Barrymore, 39, is also raising Olive, 20 months, with her art consultant husband Will Kopelman, she's turning to Applegate for mommy guidance.
"Drew is relying on her fellow mom pals to help her cope with adjusting to having two kids," the source said. "It's finally hit home to Drew that she'll have double the work, but she's still refusing to hire a nanny."
According to the source, after busy actress-turned-movie-producer Barrymore gave birth to Olive, "She moved her office to her Los Angeles home so she could focus on being a full time mom. But as her own parents John Drew and Jaid weren't nurturing, Drew was never comfortable relying on her own mother at all for advice and has said that they're estranged. So instead, she's leaned heavily on friends like Christina who already have parenting experience."
Applegate, 42, cares for daughter Sadie, 3, with musician husband Martyn LeNoble and she's been providing a wealth of information and mommy knowledge to the Charlie's Angel star.
"Among other things, Christina has told Drew when to use formula versus breast feeding, and how much sleep is too much for a baby."
Former wild child Barrymore is proving to be an old-fashioned, back-to-basics parent, as she recently told ABC News, "The best kind of parent you can be is to lead by example....I'm so much about school, consistency and tradition."
Although the ET star loves being a mother, however, "she is the first to admit she is NOT an expert at all and what she needs is really practical, on-the-ground advice about almost everything. She's so grateful for Christina's help," the source said.