Exclusive
Partner Swap: 'DWTS' Pro Peta Murgatroyd Wants Her Ex Maksim Chmerkovskiy Back -- & Is 'Faking' Fling With James Maslow To Make Him Jealous!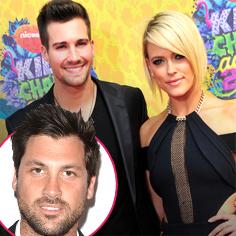 Dancing with the Stars pro Peta Murgatroyd wants a new partner – off the dance floor. Though currently linked to her partner on the show, James Maslow, sources tell RadarOnline.com exclusively that she's secretly pining for her ex, Maksim Chmerkovskiy!
"Peta has wanted Maksim back ever since they broke up," an insider told RadarOnline.com. "She's not over him."
Murgatroyed and Maks split last February after ten months of dating. Now, according to the source, she is doing everything in her power to win him back, including getting close with his brother, Val Chmerkovskiy.
Article continues below advertisement
"She has gotten very close with Val and has really become Val's best friend," the insider said, and it's all "in an effort to win Maksim back."
"She goes out with Val," the source continued. "She hangs out with him in the hopes that her friendship with Val will help her reconnect with Maksim."
Unfortunately, Val doesn't want to be in the middle of the situation.
"Val likes Peta as a friend, but he doesn't want to get involved," the insider explained.
But Murgatroyd hasn't given up, flaunting her flirtation with Maslow as a way to show her ex what he is missing.
"The relationship with James is fake," the insider claimed. "She is just using … James to make Maksim jealous."
And so far, it isn't working.
"He's not into her anymore," the insider said. "Maksim has moved on to other women, including Kate Upton. Even though he's no longer with Kate, he has moved on."
Article continues below advertisement
"He's currently single and just focusing on the show," the insider said. "Maksim has also been traveling this season because his partner this season Meryl Davis and her ice-skating partner Charlie White have been appearing in the 'Skating with the Stars' tour."
But even though Maksim has no interest in getting back with Murgatroyd, the source says she refuses to give up without a fight, and has been telling everyone that she wants to be with him.
"Peta tells everyone she still has feelings for Maksim," the insider said. "Everyone on the set of Dancing with the Stars knows about Peta's feelings for Maksim and she does nothing to hide them. The whole cast knows she wants him back. She tells everyone, not just Val."
More than a year after their split, it seems she's still feeling the sting.
"Ever since the breakup, she has never gotten over him and tells everyone she wants him," the insider said. "She would do anything to get him back."
Calls to Maksim's rep were not returned.