Exclusive
Show Me The 'Magic Mike' Money! Hunky Channing Tatum Wants A Serious Dramatic Role, But Signs On For Lucrative Stripper Sequel Instead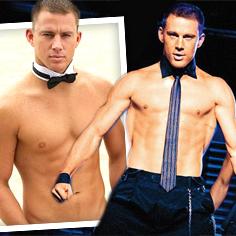 Magic Mike hunk Channing Tatum insisted to his friends that he wanted to be a serious dramatic actor -- and he was "done with taking his shirt off in movies," RadarOnline.com has exclusively learned.
But don't worry, ladies! The buff 34-year-old star who played a stripper is getting back in his G-string for the sequel, Magic Mike XXL, because producers showed him the money, a pal revealed.
"Channing was making a big point last year that his hunk days were over and that he really wanted to end his career as a sex symbol to focus on higher-end roles," the source noted.
Article continues below advertisement
"He's a huge fan of Brad Pitt's career and was hunting for a solid role along the lines of Pitt's in the 1995 thriller Seven where he could change his image and build credibility.
"But it turned out the opportunity to cash in on Magic Mike again was too lucrative to pass up. Channing now says bosses are convinced it could turn into a mini-franchise and money's the one big reason why he's had a change of heart," said the source.
In 2012's Magic Mike, Tatum memorably played the title role of a veteran male exotic dancer who mentors a young stripper portrayed by Alex Pettyfer. Fans (including, as RadarOnline.com has reported,) went wild watching Tatum shed his clothes in his hot dance scenes.
And in fact, the film was partly based on the actor's own experience as an exotic dancer in Florida when he was 19. Tatum is now reportedly working on the sequel's screenplay which will show the dancing boys going on a road trip together. The second Magic Mike movie was officially announced in March and is expected to be prepped for a July 2015 release.
According to the source, Tatum, who is married to Jenna Dewan Tatum, mother of their one-year-old daughter, Everly, "is still on the hunt for a serious dramatic role, but in the meantime he's got to keep the bank balance afloat -- and stay off the doughnuts!"