Bearded Drag Queen Conchita Wurst Wins World's Biggest Song Contest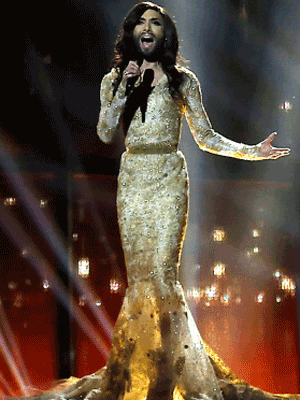 The annual Eurovision Song Contest had the most unlikely of winners Saturday -- a bearded drag queen!
Thomas Neuwirth, who performs under the name Conchita Wurst, wowed the judges when he belted out Rise Like a Phoenix.
"This is dedicated to everyone who believes in a future of peace and freedom," Wurst tearfully told the crowd.
Wearing a fashion-forward gold gown that would have made previous winner Celine Dion proud, Wurst had the audience on its feet during his emotional rendition of the James Bond -inspired song.
Article continues below advertisement
You can watch his performance here. Be prepared to be amazed!
youtube