Exclusive
'Princesses: Long Island' Star Ashlee White's Terrifying Stroke Crisis: 'I Kept Saying, Please Don't Let Me Die'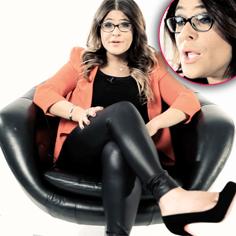 Princesses: Long Island star Ashlee White was strolling through New York City on August 12, 2013 when, without warning, she suffered a debilitating stroke.
"I was sweating profusely, one side of my face was drooping, my arm was going numb, my left leg was immobile, my heart rate was through the roof," the Bravo fan-favorite recalls of the scary afternoon in an exclusive interview with RadarOnline.com. "It all came out of nowhere." And even in her moment of crisis, she couldn't escape her role as the summer's hot new Bravolebrity. "As I arrived to the NYU emergency room, a fan came over and wanted a picture. All I could say was 'I'm not okay, I'm sorry.' I felt awful."
Article continues below advertisement
"Within ten minutes of the life-saving TPA shot, I started wiggling my toes," she remembers. "I went from a wheelchair to a walker to in-home physical therapy to outpatient therapy— all within a month."
The 4'9" reality star finally smiled again when she was able to step back into a pair of her ever-present heels.
"I had never worn sneakers, but wedge sneakers were the new trend," she says. "I was so happy, it was as if I was in a pair of 6-inch Louboutins!"
Article continues below advertisement
You Can Sue For That? The 53 Wackiest Lawsuits
Now, White still suffers from delayed speech and endures frequent lupus flare-ups, which result in extremely painful, inflamed joints. But she is moving forward: The fashionista is creating a new lifestyle website, Styletto Life, and helping other stroke victims.
Thanks to the mother of her best friend, Princesses: Long Island costar Casey Cohen, White hooked up with the American Heart Association to film a touching Public Service Announcement.
"Making the video was so therapeutic," she adds. "I want people to know the signs and symptoms of a stroke, and to show stroke sufferers they're not alone."
Though a future stroke is always possible, "I don't live in fear," White insists. "I can't live my life in fear, because then I'm not living."
Teen Mom Farrah Abraham Has Surgery To Remove Chin Implant
She credits her loved ones with getting her through the most difficult moments of her recovery.
Article continues below advertisement
"I have a wonderful, supportive, loving, amazing family," she says. "And my fans' concern and love really helped me push through it. I can't imagine someone going through a similar situation and not having people to turn to."
And though she says Cohen "dropped everything" to be by her side in her time of need, White acknowledges that her other Princesses costars haven't been at all supportive.
"We did not leave the show as friends. I'm not disappointed; I had no expectations of them," she explains. "I do know that whether or not I was friends with someone, if we shared some commonality or past, I would reach out. But I just focus on the people who have been there for me."
White is now at peace with last month's announcement that her Bravo show has been officially canceled.
"I've moved on," she shrugs. "I'm just so excited for my next chapter!"