'Teen Mom 2' Star Chelsea Houska 'Didn't Cheat' On Ex Adam Lind, Says Pal — He Lied! INSIDE The Reunion Scandal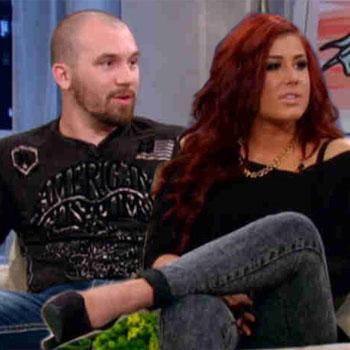 Don't hassle the Houska! On this week's Teen Mom 2 finale special, Chelsea Houska's ex, Adam Lind, slammed the MTV reality star, accusing her of sleeping with his best friend while pregnant with their daughter Aubree, now 4. But an insider close to the South Dakota-based cosmetologist, 22, says the Lind, who has three DUI arrests under his belt, lied to host Dr. Drew!
"Chelsea didn't cheat on Adam with his friend," the insider exclusively explains to RadarOnline.com. "Adam left Chelsea, and she started dating a mutual friend who was a really nice guy. She wasn't sleeping around or trying to hurt Adam like he claims. It's pathetic he has to bring up things that happened five years ago to try to prove a point."
Article continues below advertisement
And while Houska admitted on the April 22 finale special that she hooked up with Lind "months ago," during a break from his then-pregnant girlfriend, Taylor Halbur, her pal says she has matured since making her mistakes.
"Chelsea learned her lessons and grew up in order to be a good role model to Aubree," the friend says. "But Adam hasn't."
Indeed, Lind has been charged with five crimes stemming from his fiery February car crash, including reckless driving, driving with a suspended license, and driving an unlicensed vehicle. (According to reports, he was pulled from his Corvette just minutes before it exploded into flames.)
Article continues below advertisement
And Lind recently split from Halbur, the mother of his 6-month-old daughter, Paislee, amidst talk he just couldn't step up to the plate.
According to the friend, Houska and Lind still abide by the same custody agreement made in court on the show— Aubree stays with Lind's parents every other weekend—but it all could change very soon.
"Adam still hasn't gone to court for his car accident charges, so depending on what happens there, the visitation could change," the friend explains. "If he's in jail, he obviously won't get any visitation."
Luckily, Houska is taking all the drama in stride.
"Chelsea just avoids talking to Adam whenever possible," the friend says, "and continues focusing on being a good mom to Aubree."
Fortunately, fans can keep up with the young mom's life: As RadarOnline.com exclusively reported, producers are planning to air a sixth season of the hit series.