'RHOC' Preview: Fake Friends & Vodka Shots -- Tamra Barney Flips Off Heather Dubrow, Says She Needs To 'Pull The Stick Out Of Her A**'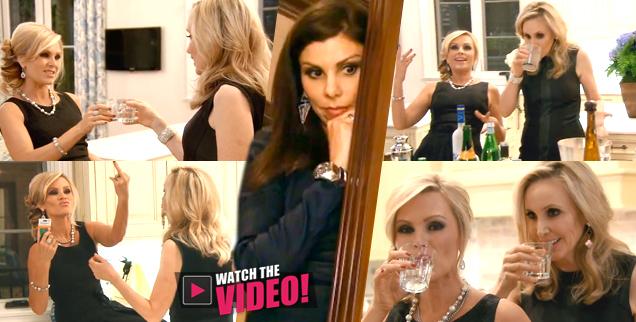 The drama is heating up on the Real Housewives of Orange County (with the help of vodka!).
In a preview for Monday's episode on Bravo, new cast member Shannon Beador hosts a dinner party at her home and things with the ladies take a turn for the worse once Tamra Barney gets into the Grey Goose.
"Here's to girls that keep it real," Barney says, clinking glasses full of vodka with Beador.
But after Beador gives Barney an herbal remedy pill that promises to keep you from getting a hangover the morning after, Barney jokes she won't get pregnant to which Heather Dubrow bluntly states, "You can't, you tied your tubes."
Article continues below advertisement
Barney flips her the finger and tells Beador, "She can't have fun. Pull the stick out of her ass. Because it's really enlodged sic in her throat."
"Heather's really been getting on my nerves lately," she tells the camera.
Faked Scenes, Lies & Payoffs – The Ultimate Guide To Reality TV Shows
"She's been extremely pretentious, she's a know-it-all. She really has this chip on her shoulder that we're all below her. She's up here, we're down here. And I'm just getting sick of it."
Article continues below advertisement
"And I don't really think she's being honest with Eddie about that."
"She cried, she got really upset," Dubrow tells Judge.
Scorned Exes Tell All: Inside Hollywood's Ugliest Splits
"She was very emotional about it. And then I got it."
Dubrow then tells her husband on the way home from the party, "I'd rather have one fabulous friend, than a dozen pieces of sh*t."