Skinny Denise Richards Goes Easter Shopping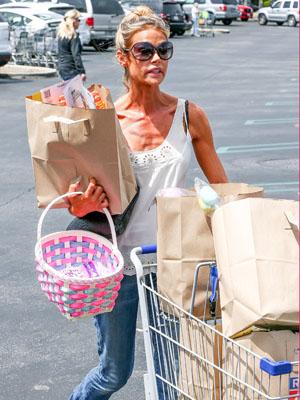 Hopefully Denise Richards is eating some candy from the Easter Bunny! The actress was looking skinny as she shopped for Easter goodies Saturday in Calabasas.
The mother of three has always been lean but Charlie Sheen's ex-wife now appears skinnier than ever before.
Maybe it's the stress of dealing with her erratic ex-husband that is taking a toll on Richards.
As RadarOnline.com exclusively reported, the Anger Management star has skipped his child support payments to her for three straight months!
Article continues below advertisement
He did that even though Richards had stepped up and taken take of his two kids by Brooke Mueller when the third Mrs. Sheen was in rehab last year, and she refused to take any additional support payments for it.
Sheen is also demanding that Richards and their daughters move out of house he owns near his own place in Mulholland Estates.
Sheen had originally wanted them there so he could see more of daughters, Sam and Lola Sheen, but has had a change of heart, and Richards agreed to the move because it was much closer to the girls' school.
But now that he's engaged to former porn star, Brett Rossi, as we've reported, he's spent very little time with his children by Richards.
Richards is also starring in the ABC Family series, Twisted, while balancing motherhood and the erratic Sheen.....and always with a smile on her face. Now, if she just had a few extra ounces on her frame!