Exclusive
Porn Star Arrested On Animal Cruelty Charges — Abuse Fetish Videos Among 'The Most Horrific We've Ever Seen,' Says PETA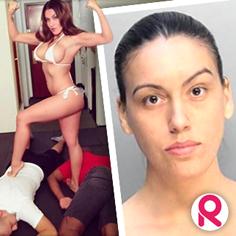 Shooting rabbits, decapitating chickens, setting rats on fire: It sounds too sickening to be true, but sadly, one pornographic actress made a living committing these sorts of crimes in fetish videos.
Stephanie Hird, also known onscreen as Megan Jones, was arrested in Miami on April 16 and charged with five felony counts of cruelty to animals.
According to PETA Cruelty Case Work Director Stephanie Bell, who supervised the investigation into Hird's crimes, the 29-year-old used a pellet gun to shoot a restrained rat in one of the many pornographic "crush" videos, which depict scantily-clad women torturing, stomping or impaling animals to death while engaging in sexual acts with themselves or other humans in order to fulfill viewers' fantasies.
Article continues below advertisement
The Craziest & Most Outrageous Celebrity Rumors — What's True, What's Not?
"She reloaded the gun multiple times during the ordeal," Bell tells RadarOnline.com. "The animal can be seen writhing on the ground after being shot, clearly suffering. It's utterly gruesome."
Another actress, Sara Zamora, 28, was previously arrested on eight felony counts of animal cruelty in relation to the videos, which were featured on a site called "SOS Barn." Zamora is accused of "repeatedly cutting a chicken's neck using hedge clippers" while groping a man's genitals, according to an arrest warrant.
"They're the most horrific videos we've ever seen," Bell claims. "The perpetrators showed absolutely no mercy to their victims. It's hard to understand to find why people would find pleasure in that."
Hird could face seven years in prison if convicted on federal charges.
Bell says the investigation began when a concerned member of the public called PETA to report the fetish flicks in 2012.
"If it had not been for the one concerned citizen who contacted PETA after finding these videos, the suspects would still be at large and animals would still be tortured," Bell says.
"The good news is the people who post this kind of activity online can be found," Bell continues. "They can be prosecuted and they can be stopped."