Exclusive
Legal Win For P!nk! Singer Gets To Keep $36,000 In Royalties From Debut Album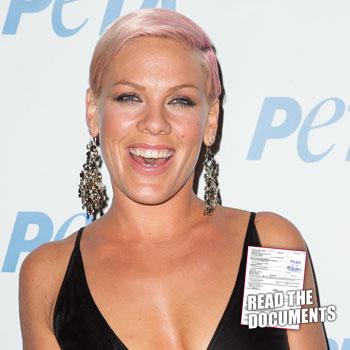 It's a legal victory for Pink when it comes to a production company called Specialists Entertainment, who claimed they were owed royalties from her 1999 debut album — and RadarOnline.com has all the exclusive details.
The 34-year-old mother of one was accused of owing $36,213.31 in unpaid royalties to the producers of two hit songs, "Hiccup" and "Can't Take Me Home" from an album that allegedly launched her career, and even attempted to have Sony pay them from Pink's money coming in!
Article continues below advertisement
EXCLUSIVE DOCUMENTS: Court Rules In Favor Of Pink! Singer Keeps $36K In Royalties
In court documents filed on March 4, obtained by Radar, a New York appeal court sided with Pink — real name Alecia Moore — and shot down the production company from taking her royalties.
Originally entered on Sept. 20, 2013, the court "granted plaintiff's cross motion to amend its complaint to add a lain for breach of contract as a third-party beneficiary as against defendant Sony Music Holdings, Inc., unanimously reversed, on the law, without costs, the cross motion denied, and the complaint dismissed."
It was noted that the producers have no right to demand anything from Sony because the agreement was with Pink, and therefore the music company doesn't have to listen to a word the producers say.
"The agreement, requesting and authorizing Sony to deduct a portion of royalties payable to Moore and to pay them directly to plaintiff, by its express terms, negates any intent to permit enforcement by third-parties," the documents state.