Exclusive
Watts Taken So Long? Naomi Watts, Liev Schreiber Have 'Worked Out Their Differences' —  'Finally Serious About Getting Married'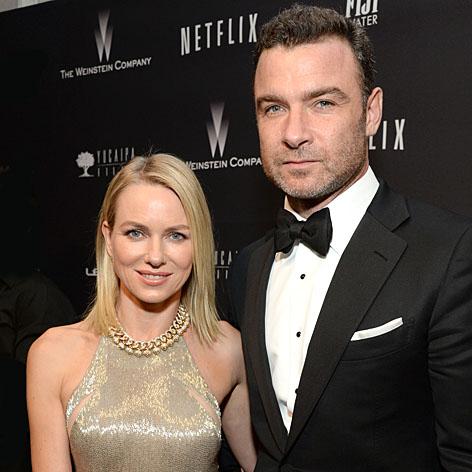 It's about time! Naomi Watts and Liev Schreiber are finally thinking of walking down the aisle after nine years and two children together, RadarOnline.com has learned.
"While Noami and Liev have had their ups and downs, including a cancelled New Year's Eve wedding right before 2008, they've finally worked out their differences and are rethinking marriage," a friend of the couple dished to Radar.
"Liev fell in love with Naomi all over again this past year."
Article continues below advertisement
According to the source, Schreiber, 46, was in awe of how his longtime partner Watts, 45, dealt with bad critical fallout from her Princess Diana biopic last year. Reviewers said the film Diana was a travesty on the life of England's People's Princess and it wound up a box office bomb.
"Liev really admired how Naomi rose above the flak she got for Diana – a role he really thought she'd win awards for," the source confided.
"She was totally broken hearted over that movie and Liev has played a huge role in getting her confidence back so she could carry on with four more films she has in production."
But could Watts' next production be their wedding?
Friends have been waiting for the two to tie the knot since they fell in love in 2005 after meeting at the Met Costume Institute Gala.
Watts has admitted she made the move on Schreiber, asking him, "Don't you want my digits?" as he started to leave the event.
Article continues below advertisement
They now have sons Alexander, 6, and Samuel, 5. Watts has said they'd have another child if they were guaranteed of having a girl.
But when asked about marriage, Watts has shrugged, "We're very much together. We just don't have that certificate and that's okay with both of us. Maybe we'll wake up and go, 'Hey, let's do this.' And maybe not."
Meanwhile, Schreiber once said about their decision not to wed, "It's complicated--and it's private, too."
Last year, Star reported that Schreiber was bugged by Watts' close friendship with fellow Australian actor Simon Baker, 44, after the couple moved from New York to Los Angeles so Schreiber could star on Showtime's Ray Donovan.
But now, "Naomi and Liev are more in love than they've ever been and are definitely serious about getting married," the source said. "It's a big step after all this time, but they're ready to marry."