Miley Cyrus Gets New Puppy After Devastating Death Of Her Beloved Dog, But Cries 'I Don't Know If I'm Ready To Love Again'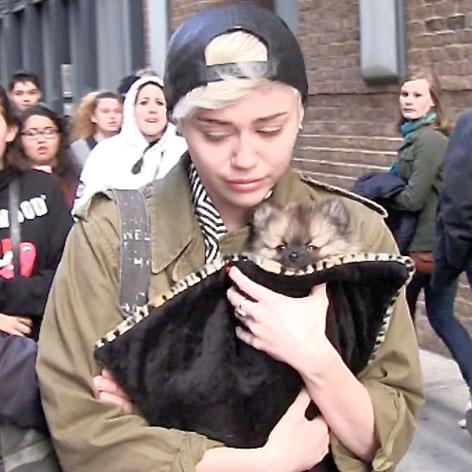 Miley Cyrus has a new canine pal in her life, a puppy she's named Moonie but the singer is still reeling from the death of her beloved dog, Floyd.
"So torn. I love having little Moonie cuddle w me and Mary Jane but just don't know if I'm ready to love again," Cyrus shared with her fans on Saturday.
Floyd, an Alaskan Klee Kai, died on Tuesday while Cyrus was away on her Bangerz Tour. She's not addressed the cause of the dog's death but there were reports it was killed by a coyote.
Article continues below advertisement
Her mom, Tish Cyrus, flew in to New York on Friday to help her daughter through the painful time, and took her shopping for supplies and treats for little Moonie.
But spotted again on Saturday, leaving her hotel, Cyrus was in tears as she cuddled tiny Moonie in her arms.
Cyrus has been sharing her loss with her fans at her concerts stops as well. On Saturday, she sang to a inflatable dog on stage. Don't be surprised if she brings little Moonie on stage with her Charlotte Monday night.