What Really Happened: 'Married To Medicine' Star Mariah Huq Was 'Drunk,' Kicked Out Of Two Restaurants Before Explosive Blowout With Quad Webb, Leaked Text Messages Reveal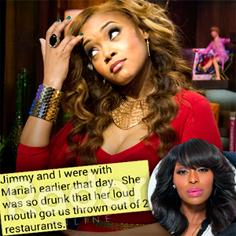 Questions continue to surround the explosive altercation between Mariah Huq and Quad Webb-Lunceford on Bravo's Married To Medicine.
RadarOnline.com has learned the secret behind the bust-up: Huq was "drunk and belligerent" the night of the pair's confrontation at Atlanta steakhouse STK, pals say.
Surprisingly, Bravo cameras didn't catch the blowup, but a series of text messages, exclusively obtained by Radar, paint a picture about what really happened.
Article continues below advertisement
The Hottest Stars From Reality TV
In the texts, Huq's pal Patrick Greco claims he was day drinking with the reality star, but the day quickly took a dark turn. He alleges that Huq became so "loud and obnoxious" that she had their group kicked out of several restaurants before her infamous run in with Webb-Lunceford in late September.
"She was so drunk that her loud mouth got us thrown out of two restaurants. She was trying to get us to go to STK," he noted.
"She was all worked up and looking for trouble… She is a terrible person and karma is gonna bite her in her a**," Patrick noted in the texts, adding that she "brainwashed" their other pals.
On the show, Huq insisted she was set up and "walked into the lion's den" accusing Webb-Lunceford and her pals of ganging up on her at STK. Meanwhile, Webb-Lunceford had a different story, claiming Huq was "ready to fight" boasting that she made Webb "relevant."
Article continues below advertisement
Webb-Lunceford exclusively told Radar that Huq was "out of control," and the text messages – along with a restaurant full of onlookers – are proof that Huq wasn't looking to bury the hatchet.
"Mariah claimed she wanted to hash out our feud, but she was just irate and belligerent when she arrived at the restaurant. She was stumbling, slurring her speech and out of control. Security had to escort her from the restaurant after she started hitting me in the back, screaming, 'B*tch, I made you relevant!'" Webb-Lunceford recalled to Radar.
She continued to vent about the fallout, adding: "I had always celebrated Mariah's successes, but I've learned that unfortunately, she's a massive manipulator. She is scared and jealous of anyone she believes is her competition."
---
UPDATE: Huq tells Radar, "I am truly disappointed that Quad has chosen to take this negative direction about our friendship in to the media. Her and her friends claims are completely false. Friends have ups & downs and the way we deal with adversity is what determines our character. I wish Quad the best in all her endeavors and sincerely hope that she can channel this energy into growing her family and new business."