Exclusive
Kristin Cavallari & Jay Cutler Slammed For Their Stance On Anti-Vaccinations: You're Not Just Putting Your Own Children At Risk!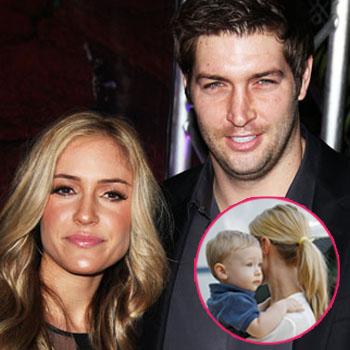 Article continues below advertisement
"I can understand where u guys are coming from, now read this and understand where I am coming from," Cavallari, 27, tweeted on March 16, with a link to an article titled The Argument Against Vaccinations.
"At least ask to see the pamphlets so u are aware of what u are putting in your/your children's bodies."
She concluded, "That's all I'm saying on this matter. We will never all agree. I have my reasons, and u have yours. End of story."
But there was virtually no support for Cavallari and Cutler's decision.
"Keep your mouth shut," follower Tanveer Pannu wrote. "Nobody needs medical advice from another blonde moron, Jenny McCarthy is enough."
McCarthy, 41, announced in 2007 that her son Evan was diagnosed with autism in 2005, claiming that his autism was caused by vaccination and she's since become one of the most outspoken advocates against vaccinations.
Article continues below advertisement
Cavallari and her Chicago Bears star quarterback hubby, Cutler, 30, were slammed online with comments and articles about how dangerous their decision not to vaccinate their children is.
"Is there a vaccination for stupid?" commenter Adam Czech asked.
While another stated, "I wish there was a vaccine for ignorance."
"Only radical right wingers, such as the Cutlers are against saving children AFTER they are born," a female commenter in Chicago wrote.
"At least they'll have millions to spend on the kid's walking canes and wheelchairs after the polio damages their spinal column. But they won't have the autism!"
Some people tried to argue that the couple aren't just putting their own children at risk for disease, but other people's children too — while others linked the anti-vaccination stance to Cutler's position on the Chicago Bears.
"So is the real reason Cutler keeps getting injured is because he has polio?" one commented asked.
Article continues below advertisement
The Craziest & Most Outrageous Celebrity Rumors — What's True, What's Not?
While Chicagoan RogueX7 wrote, "Living in the chicago area myself, I've never been a fan of cutler (honestly at this point, what bears fan is) but this is probably the nail in the coffin."
While there have been several small reports that the Bears franchise will not let Cutler bring his unvaccinated children around the team, a source in Chicago tells Radar, "That's absolutely not true. The NFL can't dictate how their players decide to raise their children."
In fact, in the state of Illinois, parents can choose not to vaccinate or give their children immunizations based on religious grounds and still have them publicly schooled. The parent must just present to the appropriate local school authority a signed statement of objection, detailing the grounds for the objection.
Im officially Kristin Elizabeth Cutler!!!!!
What do you think about Cavallari and Cutler's stance on vaccinations? Sound off in the comments below…