Deadbeat Daughter? Kris Jenner 'Could Do A Lot More' For Her Ailing Mother, Slams Estranged Sister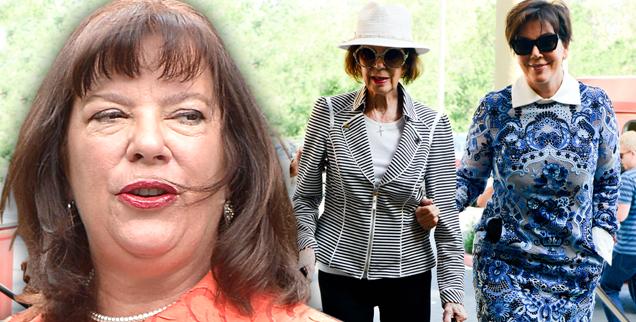 Kris is a mega-mogul and momager whose net worth has reached a whopping $125 million thanks to her famous family. But the relatives you don't see on the hit reality show haven't necessarily benefited from her fame and fortune.
Jenner's younger sister Karen Houghton is speaking out exclusively to slam the Keeping Up with the Kardashians star for what she says is Kris' selfish behavior towards her family, especially her elderly mother, Mary Jo Campbell.
Article continues below advertisement
"I think she could do a lot more for her family," Houghton told RadarOnline.com. "My mom could have anything she wanted, considering if I had three Bentleys, Mercedes cars, clothing lines."
Kris "bought her a Mercedes so she has done something for her," Houghton admitted.
"But when you express a loving family and family values and a close family and my mom wants to live in La Jolla, buy her a condo, Kris! I don't understand her. I never will. It's just her personality."
A roof over her mom's head may be a stretch, but that doesn't mean Jenner won't fork over at least a couple hundred bucks for the real necessities. As RadarOnline.com previously reported, Jenner stopped by a smoke shop in Sherman Oaks, Calif., on 4/20 to buy her mom a water pipe to help alleviate her ongoing lower back pain.
"I asked her about the bong, and she told me she was considering it," Houghton confirmed to RadarOnline.com. "I mean, she's 80 years old."
Article continues below advertisement
Pot aside, with a rumored $40 million deal inked in 2012 to renew Keeping Up With The Kardashians for three more seasons -- making it the most profitable deal in reality history – the gravy train has shown no signs of stopping any time soon. So Houghton thinks her rich sister can spare more cash to make a difference in other people's lives.
"You can't just go after the money. There's a thing called people and loving your other half of the family because they aren't famous," she said.
But Houghton insisted, "That's the way she's always been. She is a good person to her kids and a good mother. But would I want to be her? No."
The main reason, as far as Houghton is concerned, is the high price of fame.
"She's a huge celebrity and now she has changed. I'm not saying good or bad," Houghton said. "But I've seen what it can do to Kris… ever since she moved to L.A."
"I wouldn't want to be famous for anything. It makes people miserable," she continued. "I don't care who you are or how famous you are. You make so much money and don't know what to do with it. If it were me, I would open up an animal shelter or something. Who cares about an $80,000 purse when you can open a domestic violence shelter?!"
Houghton said her sister's jet-setting lifestyle breeds bad behavior.
"It's too greedy … I hate L.A. Even if you bought me an $8 million mansion like Kim and Kanye, I wouldn't live there," she sniffed.
For her part, Kris has insisted that she and Karen have been estranged for years due to her sister's "demons."