Exclusive
Keeping Up With The Freeloaders! Kardashian Lackeys Live Life Of Luxury -- Despite Secret History Of Angry Creditors & Unpaid Taxes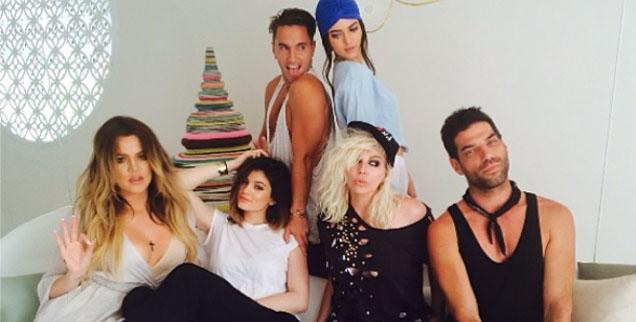 Private jets, four-star hotels and exotic destinations are all part of everyday life for the Kardashians -- and their entourage of hanger-ons. But RadarOnline.com has exclusively learned that while makeup artist Joyce Bonelli and hairstylist Scotty Cunha enjoy the high life thanks to their famous friends -- most recently tagging along on the family trip to Thailand -- they've secretly been hiding a host of financial issues including angry creditors and hundreds of thousands in unpaid taxes!
Article continues below advertisement
According to tax documents obtained by Radar, Cunha -- who also has worked for and hangs out with Miley Cyrus -- was slapped with a federal tax lien for $26,210 just over three months ago. In addition, he was hit with a state tax lien of $20,744, bringing the grand total of unpaid taxes to $46,954.
READ The Tax Documents & Court Records Exposing Kardashian Freeloaders' Shady Financial Pasts
Shortly after the liens were filed, he jetted off on a luxury vacation to Tulum, Mexico. It is unclear from records whether he has begun the repayment process.
Cunha's fellow Kardashian pal Bonelli has had her own issues with the IRS. In 2011, she failed to pay the feds $365,156 in taxes, according to tax records obtained by Radar, and owed the state $2,490. She paid back the former just last year, and settled her bill with California in late 2011.
Bonelli also has a history of other financial issues that have brought her to small claims court in L.A. several times. According to court records obtained by Radar, Merrill Lynch Mortgage Investors began an eviction process against her in 2007, but the case was dismissed in 2011.
Article continues below advertisement
Also in that year, Wells Fargo Bank brought her to court over a $13,953 in unpaid bills. After legal back and forth, she satisfied the judgment in 2012.
And in 2005, a contractor named James C. Reed sued Bonelli for a $5,000 unpaid bill.
She claimed "The work he did needs to be replaced," because of "terrible installation + marble scratched," but a judge ruled in favor of Reed and Bonelli eventually paid $5,114.91.