Who Says Nothing In Life Is Free? E! Foots The Bill For Over The Top Kardashian-Jenner Vacations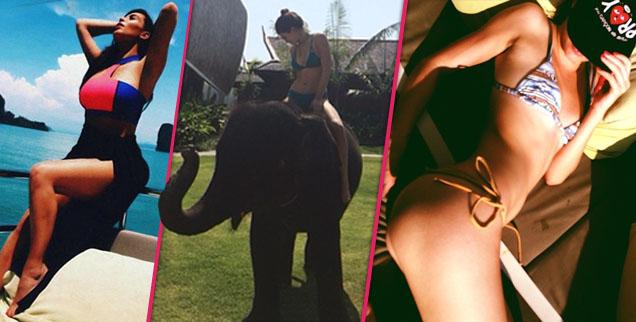 The Kardashian and Jenner families have jetted off to a luxury vacation in Phuket, Thailand, and while the first family of reality television stays in first class accommodations, flies first class, and dines in five-star restaurants, they don't have to worry about how much it costs because E! and Ryan Seacrest Productions always pays for their over-the-top getaways, RadarOnline.com is exclusively reporting.
Article continues below advertisement
Cameras in tow, Kim Kardashian, North West, Bruce Jenner, Kris Jenner, and the rest of the extended family "descended into Phuket where they will remain for the next several days," a source told RadarOnline.com.
The trip is, of course, being filmed for Keeping Up With The Kardashians and entirely paid for by E! and Ryan Seacrest productions.
The family -- who racked up a bill of more than $100,000 -- flew first-class, and the vacation rental house was on E!'s dime.
"Past vacations the family has taken to Greece and Tahiti were also paid for by the network: Wouldn't it be nice for the employees of E! to have their vacations paid for by their employer?" a source told RadarOnline.com.
On Monday, Kim was spotted posing in a bikini with younger sister Kylie taking pics.
Kim's ex-husband, Kris Humphries told pals that while on the family trip to Bora Bora, the sex tape star faked a scene for Keeping Up With The Kardashians.
Article continues below advertisement
"Kris was with Kim and her family in Bora Bora, and he playfully threw her in the sea," the insider previously told us. "Kim emerged from the water, freaking out, with cameras rolling, shrieking that she had lost one of her diamond earrings, which are worth $75,000.
"Kim was crying hysterically, but then miraculously, one of her younger sisters found the earring in the ocean, where the group had been swimming. It was probably 6-8 feet deep, and Kris commented to Kim how unbelievable it was that the valuable earring was found as the current in the ocean in Bora Bora is very, very strong.
Revealed: 35 Secrets The Kardashians Want Hidden
The source added that "Kim just said, 'I know -- with very big smile on her face."
While various hotels and airlines featured as a part of the family vacations on the Kardashian reality show "have offered discounts in exchange for publicity, these trips are extremely expensive," the source said. "Most people don't ever get to take one vacation to Bora Bora, but once or twice a year, and the Kardashians don't have to pay for it?
"Well, what an amazing gig they have; you have to wonder if they truly appreciate it," the insider added.
Stay with RadarOnline.com for the latest on the Kardashians.