On The Lookout For A Groom? Kate Gosselin Models Skimpy Bridal Gown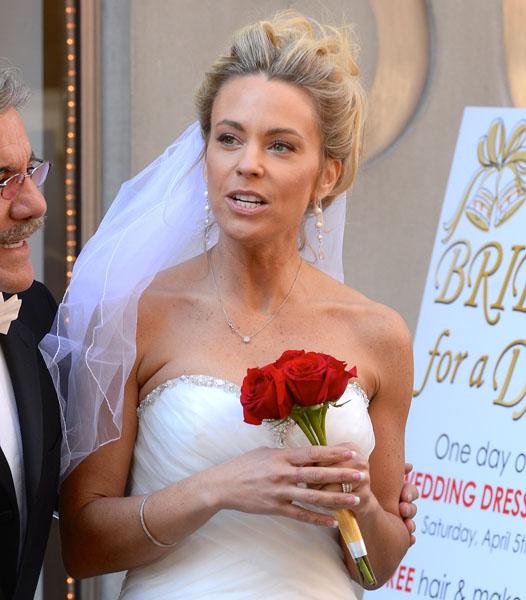 Was Kate Gosselin hoping a a prospective groom would come by and sweep her off her feet when she modeled a skimpy wedding gown on a New York sidewalk Saturday morning?
The former Jon & Kate Plus 8 star is definitely looking for her next Mr. Right but this morning's stunt was all part of a challenge on Celebrity Apprentice.
Gosselin's team was tasked with selling wedding gowns so Kate put on a strapless mini white dress, grabbed a veil and a bouquet of red roses and stood outside the group's pop-up store, hoping to entice customers.
Article continues below advertisement
Some of the other competitors on season 14 of the Donald Trump reality show are Housewives Brandi Glanville and Kenya Moore, Geraldo Riviera and Lorenzo Lamas.
This isn't Gosselin's only foray back into the reality TV world. She and her eight kids will also be appearing in a special for TLC, updating their lives since their last series was canceled.
As RadarOnline.com reported, her ex, Jon Gosselin, expressed outrage at his children being back before the cameras.
MORE ON:
Celebrity Apprentice