Low Blow! Teen Mom Jenelle Evans Breaks Down After Boyfriend Implies She Should Have Gotten An Abortion: 'Our Son Might As Well Be Dead'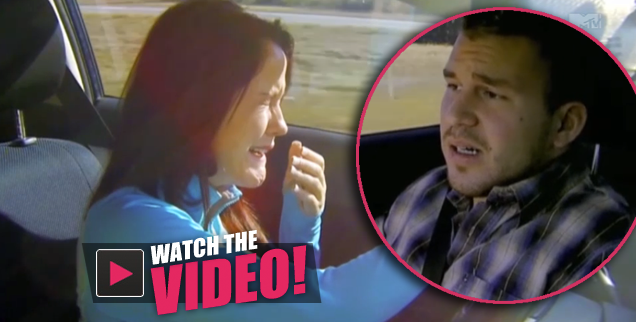 For most parents, hearing their baby's heartbeat for the first time is a joyful bonding experience. But for Teen Mom 2 star Jenelle Evans, the experience ended in tears when her baby daddy Nathan Griffith questioned the status of their tumultuous relationship and said their unborn son "might as well be dead!" The shocking scene unfolded in a preview for the MTV reality show, and only RadarOnline.com has all the details.
Article continues below advertisement
"Nathan has been acting super distant and we got into another big fight this morning," Evans told the cameras. "Things are really tense, but he still came along to my doctor's appointment."
After the appointment, Evans and Griffith headed off in the car together and Evans started questioning him about his feelings about the baby.
"So were you happy to hear the baby's heartbeat today?" Evans asked Griffith.
Griffith said, "Yea," but he wasn't that interested in the conversation.
"There's no point in talking to you," Griffith added. "The path we keep on going on, with fighting every single day, there's more than a 90% possibility that we're going to break up here eventually."
Evans took this to mean that he didn't want her to keep their baby.
"You think I should get an abortion?" she asked.
"I don't know anymore," Griffith replied.
Article continues below advertisement
Grittith's answer set Evans off into an emotional fit.
"That's sick," Evans said. "I'm 12 weeks. I'm not like two weeks, Nathan. We just heard the heartbeat today. How could you say that?"
Evans then broke down into tears as the conversation continued.
"Because we're not stable," he replied. "That's how I can say that. How is a child worth living if he doesn't have a mother or father that loves him? Why raise a child who is going to be…"
Article continues below advertisement
Evans then lost it at that point.
"You are so mean!" Evans cried. "You don't want to be with me period obviously. You're telling me to get an abortion. You're telling me you don't care about this baby. We just heard the heartbeat. How can you tell me to go get an abortion? I'm sorry if you wanted me to earlier, but it's a little late now, Nathan. "
"I did not say that," Griffith kept repeating as Evans cried.
EXCLUSIVE TEXT MESSAGES: Jenelle Evans Admits To Smoking Weed While Pregnant
"Why don't you break up with me if you're already predicting the future?" Evans continued. "Just leave me. Just stop dragging me along."
Griffith tried to get a sentence in, but it didn't work.
"Because I want to get along with you…" he said before getting cut off.
"No you don't," Evans stated. "You keep arguing. That's not getting along with someone."
Griffith then decided to mock his pregnant girlfriend.
"And that's how you scream at people because that's the right thing to do," he said. "You're such a baby."
Evans finally pulled over the car and in between sobs, shouted, "Get out!"
Do you think they'll make it in the long-run? Let us know in the comments!