Exclusive
Here, George! Eva Mendes Asks Ex-Boyfriend George Augusto To Care For Ryan Gosling's Dog — Who's Also Named George!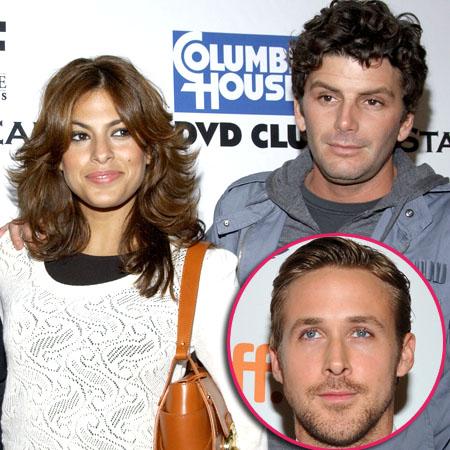 Eva Mendes has humiliated her ex-boyfriend, George Augusto, by asking him to look after current love Ryan Gosling's dog, RadarOnline.com has learned.
And, to make matters worse, the mixed-breed dog is also named George!
Despite Mendes' split from Augusto, he still works for her as an assistant, handling some of her business affairs, a source told Radar.
But recently, Augusto was shocked when "she asked him to look after Ryan's dog while the couple traveled."
Article continues below advertisement
At first, Augusto didn't know the dog belonged to Mendes' The Notebook star beau but "George was humiliated when he was suddenly handed a list of instructions about how to take care of the dog by one of Ryan's assistants.
"Only then did he realize that Ryan's dog is also named George!"
According to the source, Augusto, didn't want to abandon the dog duties or make waves at the time "because he's desperate to keep his job with Eva."
The couple dated for more than a decade but never married. Mendes, 40, started dating Gosling, 33, in 2011.
Although he grudgingly went through with the task, Augusto finally spoke to Mendes for his pride, the source said.
"He's politely informed Eva that he won't be taking care of 'the other George' ever again!"