Exclusive
Eli Manning's Legal Battle Against Memorabilia Collector Heats Up — My Reputation Is Being DESTROYED!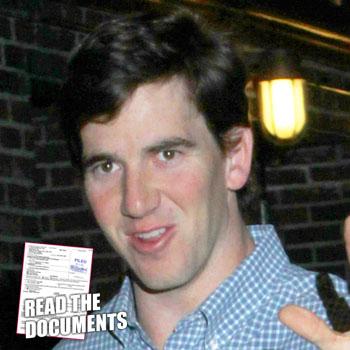 Eli Manning is worried his public image is being tarnished by a man who claims the NFL star screwed over his fans, and RadarOnline.com has all the exclusive details.
The 33-year-old New York Giants quarterback has been involved in a lawsuit since Jan. in which sports memorabilia dealer Eric Inselberg claims Manning and the Giants sold fake "game-work" jerseys, helmet and other fake collectibles to unsuspecting customers.
Article continues below advertisement
Radar has obtained Manning's response to the lawsuit, in which he denies and and all accusations made by Inselberg.
EXCLUSIVE DOCUMENTS: Eli Manning Responds To Fake Memorabilia Claim — Read It Here
Manning filed the response on March 20 and then his attorney filed a motion to Judge William J. Martini on March 25 pleading with the court to dismiss him from the lawsuit because he believes it's ruining his image.
"In his Complaint, Plaintiff accuses Eli Manning – one of the most respected football players in the entire National Football League – of creating 'fake' game-worn jerseys and helmets for resale to the public," the plea reads.
"We suspect that Plaintiff desires to keep Eli Manning in this lawsuit as long as possible for his own self-promotion."
You Can Sue For That? The 53 Wackiest Lawsuits
Inselberg has a less than favorable reputation himself: He was linked to a fake Michael Jordan warmup jacket scam in 2007 and was also one of six memorabilia dealers accused of selling counterfeit game-used jerseys to trading card companies and other buyers in 2011.