Tearjerker: Terminally Ill Father Walks His 11-Year-Old Daughter Down The Aisle Knowing He Won't Be There On Her Wedding Day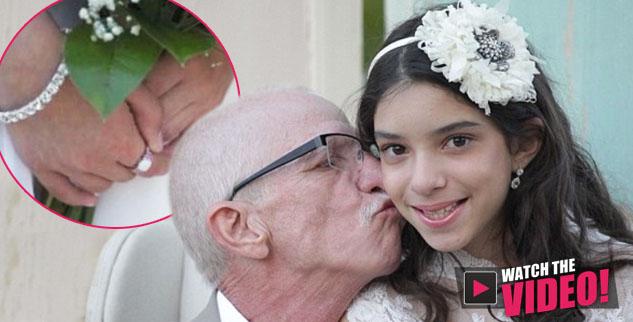 Better have a tissue ready before reading this story!
Diagnosed with stage 4 pancreatic cancer, 62-year-old Jim Zetz knew he'd never get to watch his young daughter grow up and get married — but both their dreams were fulfilled when he was able to walk Josie, 11, down the aisle anyways.
Zetz joined hands with his sweet daughter in the backyard of their Murrieta, Calif. home on March 14 and placed a sparkling ring on her index finger while their family pastor proudly pronounced them "daddy and daughter."
Article continues below advertisement
In a true act of community, photographer Lindsey Villatoro enlisted her vendors to help donate everything needed for the entire ceremony in just 72 hours — including Josie's dress, the wedding cake, hair and makeup, flowers and catering.
Villatoro caught the special day on camera and says she didn't hesitate when the opportunity arose to shoot the Zetz wedding.
Villatoro posted video footage on Vimeo last week titled "Walk me down the Aisle Daddy" and it quickly went viral.
vimeo 89526392 w=500 h=283
"In 72 hours I managed to make one little girls with to have her Daddy attend her wedding come true," Villatoro said in the video.
"One day you wake up and realize you're given the opportunity to change someone's life for the better. You get an idea, don't think twice and run with it."
Villatoro met the Zetz family when she was hired to take what would be one of the family's last portraits together — and the wedding idea was conceived.
Article continues below advertisement
"I told Josie's mother I was coming over with a dress from Macy's, dinner for some close friends and I'd do her makeup. We'll sic low and behold I actually had a FULL blown wedding up my sleeve," Villatoro wrote in the description of the video.
"Not to mention the press was even there. I planned every detail with my rockstar team that had NO IDEA they were even helping."
"Your dad may not get to see you get married, but he is here to walk you down the aisle today," pastor Gary Galbraith said during the ceremony.
Jim said, "Down the road, this will mean a lot to Josie. She will always remember it."
And Villatoro was happy to make the daddy-daughter duo's dream come true.
"Josie, you will forever have a video of you and your dad walking you down the aisle to play at your wedding in years to come, as if he was physically there," she wrote.