She's Ready For Summer Alright! Carmen Electra Sexy & Fit On Cover Of New Muscle & Fitness Hers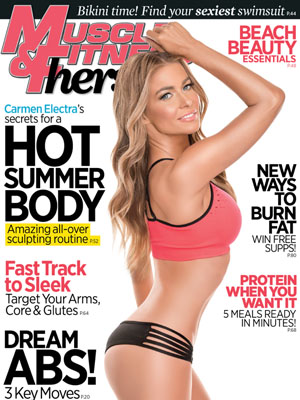 We've got a first look at Carmen Electra's cover of the current issue of Muscle & Fitness Hers, where the pop culture stalwart shows off her smoking' form thanks to her fitness-geared lifestyle.
In her spread, the one-time Baywatch stunner shares with readers a series of exercises that have kept her figure in fab form over the years.
Some of the moves Carmen's used to keep in shape, profiled in the issue, include The Body Bar Vogue Lunge for your shoulders and thighs; the One-Arm Worm for your shoulders and hips; the Foot Grab & Reach for your core, glutes and thighs; the Kettelbell Goblet Squat for your hips and thighs; and the Ab-Splitter for your abs and thighs.
Article continues below advertisement
Check out Electra in Muscle & Fitness Hers, on newsstands everywhere.