Exclusive
Cameron Diaz Asked To Step Into The Celebrity Boxing Ring To Fight 'Tan Mom' -- Thanks But No Thanks!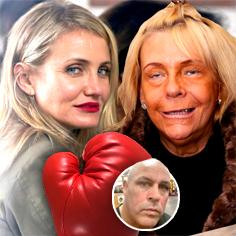 Celebrity Boxing founder Damon Feldman has no shame.
The Philadelphia-based former pro boxer ran into A-lister Cameron Diaz on Thursday while at the Sirius XM studios and not only did he ask her out to dinner, but he also asked her if she would jump in the ring with 'Tan Mom' Patricia Krentcil!
The Bad Teacher star politely declined both offers, but not before taking a moment to graciously chat with Feldman.
Article continues below advertisement
Feldman held a press conference last night to announce that Tan Mom would be stepping into the Celebrity Boxing ring with 'Milf Mom' Ang Cottone on June 21 in Atlantic City — but he would have quickly kicked Cottone to the curb if Diaz had accepted his offer.
Diaz, 41, has been busy making the rounds promoting her new flick, The Other Woman.