Sonja The Psychologist? Housewife Morgan Claims Costar Aviva Drescher Is In A 'Fragile Mental And Health State'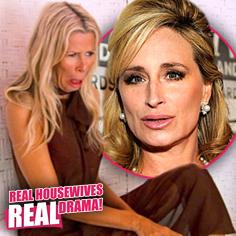 Real Housewives of New York star Sonja Morgan is playing psychologist. In a new blog posted on Bravo, the reality television star has revealed how she is worried about Aviva Drescher's health.
As the housewives' feuds raged on during this week's episode, with Heather Thomson getting in Drescher's face, Morgan alluded to another battle waging in her co-star's life.
"Everyone really seems to have ganged up on Aviva who is, in my eyes, in a fragile mental and health state. Is it just me or it shows as well?!?" Morgan wrote.
Article continues below advertisement
"She's getting thinner, paler and forget a ghostwriter -- she looks like Casper the ghost herself!"
Although Drescher did not respond to a request for comment, she previously opened up about her battle with anxiety and health scare in January.
"I have struggled with anxiety since my childhood accident," she said about the incident that left her with a prosthetic leg. "I find that medication has so many side effects such as drowsiness so it never really worked for me."
Then, this past summer, she began to suffer from more health problems.
"I had severe asthma this summer. My pulmonologist believed the cause was reflux/gastritis. Something like 80-percent of sudden adult onset of asthma is caused by reflux. After multiple diagnoses—and anemia—it was suggested to have an endoscopy and colonoscopy," she told Bravo.
At that point, the RHONYC star was diagnosed with flat polyps, which have the potential to develop into precancerous polyps. In January, she underwent surgery to remove the polyps