Exclusive
'American Idol' Finalist Turned RuPaul's Drag Race Fan-Favorite Adore Delano Talks Switcheroo: 'I Want To Break Into The Mainstream!'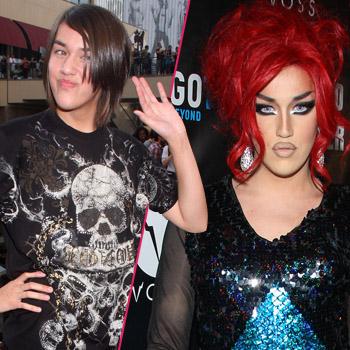 Danny Noriega, is that you? American Idol's adorable teen boy has returned to the spotlight as self-described "punk-rock mermaid" drag queen Adore Delano on this season of RuPaul's Drag Race — and she's never felt more like herself.
"I cut all my hair off for American Idol, because my mom told me to do that," says Delano, who as 18-year-old Noriega, finished in the top 16 of the Fox hit music competition's seventh season.
Article continues below advertisement
"In high school, I wore makeup every day and had my nails done. I was a punk girl."
Six years after the 2008 reality show debut, Delano, now 24, sang, acted, danced and charmed her way into the final six of the LOGO drag competition show's sixth season. And she's not stopping there.
"My goal is to break into the mainstream," the southern California native explains to RadarOnline.com. "The last person who was able to do that is RuPaul. I want to get a record deal. There aren't enough drag queens doing what Lady Gaga and Nicki Minaj do!"
But don't worry, Danny Noriega will still make public appearances. "I have this weird vision when I get signed," she says. "On tours, Adore will be on, but then here comes Danny! Maybe we can use holograms."
The tours may be coming sooner rather than later: Delano is "almost finished" recording her debut album. "I cowrote all the songs," she boasts. "It's been so much fun!"
Though she got her start singing on the Fox hit, Delano is no longer an American Idol fan. "I stopped watching a few seasons ago," she admits. "When you switch out the judges like dominoes, you lose interest. When I was there, it was the original three Simon Cowell, Randy Jackson, and Paula Abdul. There was a certain dynamic that was just magic."
Fortunately, Delano got to relive a bit of the magic when her two worlds collided and Abdul guest judged on Drag Race.
"I love Paula," she gushes. "I always had a connection with her."
See Adore Delano compete on the LOGO hit on Mondays at 10 PM.