'Mom Tried To Kill Us!' Woman Who Drove Minivan With Her Three Kids Into The Ocean Charged With Attempted Murder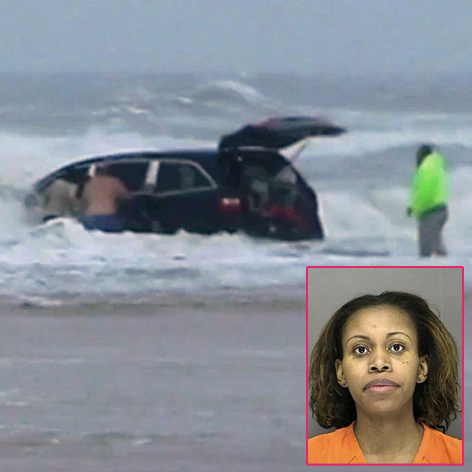 Ebony Wilkerson, the pregnant woman who drove her minivan with her three terrified children into the ocean on Tuesday, has been charged with attempted murder.
"Mom tried to kill us," one of her kids told authorities. "My mom is crazy," another said, according to documents released by Volusia County Sheriff Ben Johnson.
"She told them to close their eyes and go to sleep. She was trying to take them to a better place," Johnson said during a news conference on Friday.
Article continues below advertisement
Photos and video of Wilkerson's car floundering in the Daytona Beach, Florida surf, with several Good Samaritans and life guards struggling to save the children, were seen around the world.
Numerous eyewitnesses recounted how the car drove straight into the waves as the children screamed for help. Wilkerson, eight months pregnant, was seen trying to fight off rescuers.
Hours earlier, Wilkerson's panicked sister called the Daytona Beach police. She was worried about Ebony, who she said had been talking about "demons" after fleeing her South Carolina home.
Cops actually spotted her car, pulled her over and questioned Wilkerson who told them she had driven to Florida to get away from her husband.
"It was clear during my conversation that Wilkerson was suffering from some form of mental illness, but she was lucid and did not provide any signs that she met Baker Act requirements," the Daytona Beach police officer wrote in his report.
The Baker Act is the Florida law that would have permitted officials to involuntarily commit Wilkerson as a danger to herself and others.
Wilkerson has now been charged with three counts of attempted murder and three counts of aggravated child abuse.
Her children are in protective custody.