Bobbi Kristina Following In Her Mom's Footsteps? Hints At Recording Career, Reality Show PLUS Her Attack On The Haters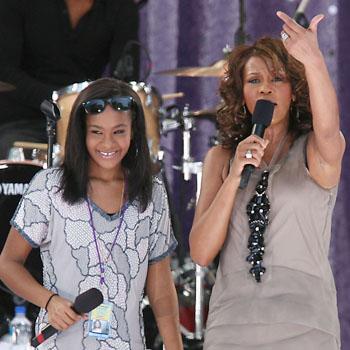 The apple apparently doesn't fall far from the tree, with Bobbi Kristina Brown hinting that she is working on launching her singing career and possibly doing a reality show, while slamming anyone who dares to question her controversial lifestyle choices.
Whitney Houston's daughter, 21, has been teasing fans about trying to show off her own vocal talents with multiple posts touting her own skills as being as well-honed as her late mother's.
Article continues below advertisement
Brown also told her fans that she would be returning to television soon (a la Being Bobby Brown???)
When followers criticized her arrogance and assumption that she would be able to belt out the big tunes her mother did, she warned them not to dismiss her too quickly.
As RadarOnline.com previously reported, Mariah Carey, 43, and Randy Jackson, 57, have quietly decided to help her with her budding music career.
But not everyone is on board, with multiple people lashing out against what they perceive as her lack of talent, claims Brown immediately slammed.
But Brown fondly remembered her mother, who passed away at age 48 in 2012.