'Suits' Star Meghan Markle, 'I Want A Career Like Jennifer Aniston's'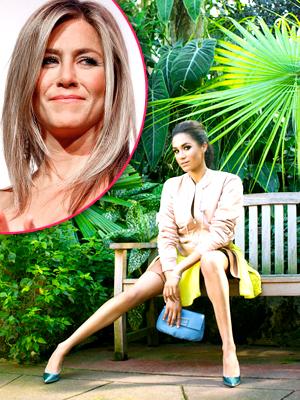 Meghan Markle is on a fast track to the top in Hollywood.  With a costarring role in the hit USA Network series, Suits, and  starring roles in an upcoming film, Anti-Social and Hallmark TV flick, Oh Say Can You See, Markle has her eye on a career just like her hero, Jennifer Aniston.
"I grew up loving all those Jennifer Aniston movies like 'Picture Perfect.' That's the trajectory I would love to be on," Markle told the Chicago Sun-Times' Sunday magazine, SPLASH.
Article continues below advertisement
"I'd love to be on a show and then be able to do this amazing project where you get to play," she said, referencing how Aniston worked on Friends  and then did movies during her hiatuses.
Markle has also become something of a fashion darling and made several red carpet appearances during new York Fashion Week.