Exclusive
Real Life 'Ken Doll' Update: I'm Up To 145 Cosmetic Procedures & Plastic Surgeries And Have Spent Over $160K!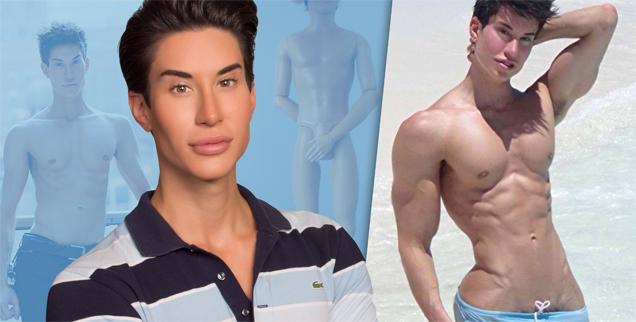 Some see it as a plastic surgery disaster, but Justin Jedlica won't stop on his quest to become a real life human Ken doll, and RadarOnline.com has the exclusive details on his latest plastic surgery procedures and photos.
After appearing on My Strange Addiction and later going on The Doctors where Jedlica revealed he'd had over 100 cosmetic procedures (with no plans to stop!), the 33-year-old has held true to his word and is now up to a mind-blowing 145 procedures completed and a tab of more than $168,000.
Article continues below advertisement
Among his newest bodily additions: having his biceps replaced with larger implants and having three implants put in each shoulder for larger deltoids — and the implants themselves did not exist so Jedlica designed them himself — leading to his own plastic surgery consultation business.
"This is a very exciting time because not only am I creating new implants for myself, I am also in the process of finding the right distributor for my line of custom implants as there are limited options in the current marketplace which simply do not fit everyone," Jedlica told RadarOnline.com in an exclusive interview.
"Additionally, the launch of my consultancy allows me share all that I have learned with others looking to have cosmetic and/or reconstructive procedures, but are confused or overwhelmed by the process."
Jedlica says that since coming forward with his story, he wants to help other achieve their versions of personal beauty at whatever cost.
Bitten by the plastic surgery bug at just 18-years-old when he had a nose job, Jedlica went on to have five rhinoplasties, a cranial drown bone shape and augmentations to his cheeks, lips, buttocks and chin to achieve his startling look.
"Over the years I've received so many emails and letters asking for advice that I am thrilled to have formalized a way to help those looking for guidance," Jedlica concluded.
What do you think of his over-the-top look? Leave your thoughts in the comments below…