Exclusive
Is The Ramona Singer-Aviva Drescher Feud Really Over? Ramona Declares, 'Why Make Up With Her?'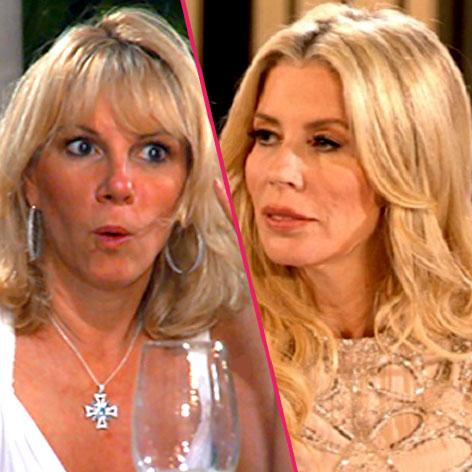 In the premiere episode of The Real Housewives of New York City, Ramona Singer and Aviva Drescher got into a nasty confrontation at Heather Thomson's party, but shortly after, met up with each other and came to a mutual understanding.
The question now is: Will this newfound common ground last the entire season of RHONY?
"Definitely Aviva and I last season did no end on a good note," Ramona Singer told RadarOnline.com. "In fact, in between filming, I would run into her at social events and I would just smile nicely and keep walking."
Article continues below advertisement
Their first interaction since the last season actually didn't take place until filming for the new season resumed.
"The first time I ever spoke to her was on the first episode," Singer clarified.
And when Singer found out that Drescher would be coming to Thomson's party, she wasn't that thrilled.
"To tell you the truth, I was dreading that she was coming," she said.
But Singer tried to be the bigger person.
"I knew Heather had invited her — Heather was friends with her and Heather's a friend of mine, so I said, 'Okay, I have to rise above it. I guess for the good of the group, I have come,'" Singer said. "'Hopefully she won't come over to me' … but she did."
Singer's wishes didn't work out though, as fans saw in the premiere episode.
Singer confirmed, "We had a confrontation."
But at the end of the episode, the two enemies called a truce.
Article continues below advertisement
How Housewives Stars Go From Home To Hot – See The Photos
"We had a conversation," Singer said. "And we basically kind of made amends."
Sadly, it doesn't sound like the kinks in their friendship were all worked out.
"You are going to see during the season where Aviva basically has problems with some of the other women that she never did have problems, which kind of made me question, 'Why make up with her?'" Singer admitted. "I only made up with her because of all of you guys, so what the heck is going on here?"
Outrageous Extravagance! The Secret Life Of Socialites Revealed
So how does Singer feel about forgiving Drescher?
"I think the toughest part about forgiving someone," Singer said, "is it definitely makes you feel better about yourself and it's the greatest gift you could give someone, …
"But then you kind of wonder if they'll go back to the same habits again."
Will Drescher revert to the ways Singer's not happy with? Stay with Radar for that answer, and all the latest on the Real Housewives of New York City.