NeNe Leakes Slams Kenya Moore and Marlo Hampton: I Want Nothing To Do With These Fools!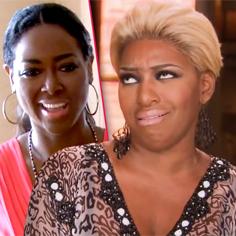 Old feuds die hard.
NeNe Leakes took to her Bravo blog to fire shots at her Real Housewives of Atlanta co-star Kenya Moore and former BFF Marlo Hampton claiming they're both desperate for air time.
"Misery loves company! Manlow and Krayonce seem to be keeping each other company very well. They are back at their ol' tricks," Leakes wrote, after the pair had a gossip session about Leakes on the latest episode.
Article continues below advertisement
Leakes, who had a falling out wither former bridesmaid over her budding friendship with Moore, went on explain she wants nothing to do with them.
"Krayonce wants this to be about her so badly! She has thirsty written all over her face. It's way better for them to sit and talk about me than me talking about them, because I am very busy.
GALLERY: The Giudice's 30 Most Shocking Quotes About Fraud & Finances
"As I said before, I am never having anything to do with these two fools, so no need for me to comment. When I write you off, I write you off! They are doing all for nothing, so let them keep talking about me," the upcoming Dancing with the Stars contestant wrote.
Leakes went on to slam Moore and Hampton for trying to tear her down after her show, The New Normal, was cancelled.
"What goes up must come down," Moore joked during Sunday's episode while discussing Leakes' fame.
"I love how these chicks try to diminish what is clearly a major accomplishment. Let's see them get a series to lose, then holla back at me. By the way, what do they do again? My point exactly!" Leakes quipped.