Photo Proof: 'Mob Wives' Star Natalie Guercio Cheats On Boyfriend -- With Married Music Producer!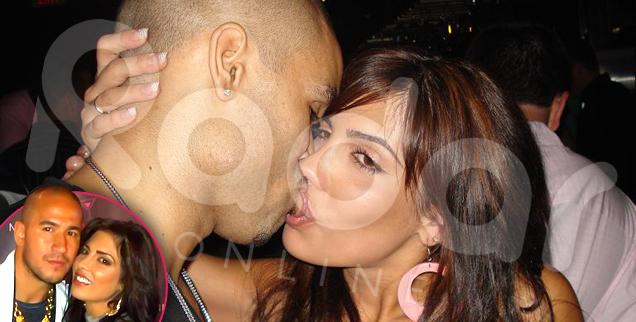 This photo breaks the omertà: Mob Wives star Natalie Guercio is caught on camera locking lips with music producer Ryan Banks, a man who most certainly is not her long-time lover London Rene.
RadarOnline.com has obtained an exclusive image of Guercio embracing Banks, behind the back of her boyfriend, while out nightclubbing in Philadelphia in the summer of 2013.
What's more, Banks has exclusively confessed to Radar that he and Guercio have been hooking up for years!
Article continues below advertisement
"She was more just a late night hookup after the club. We were never in a boyfriend/girlfriend relationship. It was just sex. She was just a side thing, and we were cool like that so her boyfriend didn't know," Banks said.
He went on to charge that Guercio, 31, would pursue him – yet tried to create a facade that she and her boyfriend had the perfect romance – going so far as to Instagram photos with her beau, with captions like, "My Love My World My Everything!"
But, the scandal doesn't stop there: Banks himself is married and expecting his first child!
"My wife knows about Natalie. See, I do music and I'm a pretty popular guy. My wife knows who she married," he nonchalantly admitted, "But I don't think Natalie has ever told her boyfriend about me or all the times we've hooked up in the studio.
"See, Natalie and I have known each other for years, but my friends claim once I got married, Natalie got jealous of my wife, and she's become like a crazy ex-girlfriend – even though she has her own boyfriend she should be worrying about."
Article continues below advertisement
Despite their hot hookups, Banks claimed the reality star vixen is now trying to seek revenge by publically slandering him over their collaborative single, "Delicious."
"She is telling people that she's going to sue me because I tried to promote the song without her consent to boost my profile, and that I'm taking advantage of her. It's not true. From what my friends tell me, she's only doing this because she wants my wife's
life but is stuck with London.
"She was not and will NEVER be my girl. I love my wife. I think (Natalie) has a lot of issues -- and clearly thrives off drama," he said.
When asked to comment, a spokesperson for Guercio said: "That is 100% false and it is a desperate attempt for someone to garner publicity at Natalie's expense. Natalie and her boyfriend, London, are very happy and currently vacationing in Miami."