Exclusive
Model Marriage Ultimatum! Miranda Kerr Advises Rosie Huntington-Whiteley To 'Walk' If Boyfriend Jason Statham Doesn't Propose!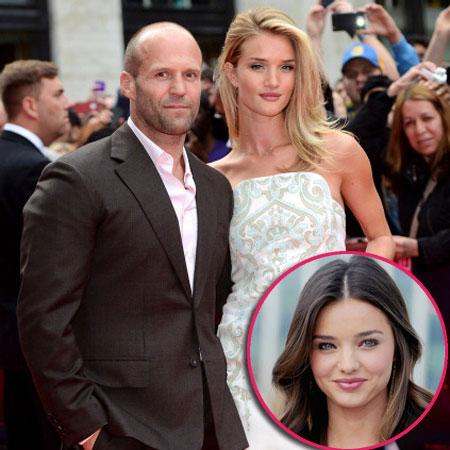 Miranda Kerr is teaching her fellow Victoria's Secret gal pal Rosie Huntington-Whiteley how to WALK--away from boyfriend Jason Statham if he doesn't propose, RadarOnline.com has learned.
"Rosie and Jason have had many ups and downs in their relationship, but the supermodel has begun to lay down the law that if Jason doesn't start getting serious about getting married, she will leave him," a source revealed.
Article continues below advertisement
"But the ultimatum idea didn't come from Rosie herself but her close pal and 'mentor Miranda!"
Huntington-Whiteley, 26, has been dating The Expendables star Statham, twenty years her senior, since 2010. She previously had a two-year relationship with Tyrone Wood, the son of Rolling Stones rocker Ronnie Wood, and briefly dated actor Olivier Martinez. Statham, 46, whose previous girlfriend was another British model, Kelly Brook, has never married.
But now, Kerr, 30, thinks Statham needs to put a ring on her close friend!
"After Rosie and Jason have spent four years together, Miranda would like to see her get married. She only wants the best for her friend, so she's urging her to give Jason some tough love," the source told Radar.
Kerr married Orlando Bloom in 2010 and they had a son, Flynn, but the pair announced their separation in 2013.
Even though Kerr's marriage to an actor failed, she's advising Huntington-Whitley to pin down Statham.
"Miranda has been bragging to other friends in recent weeks that she is steering Rosie in the right direction by advising her to leave Jason if he doesn't propose before the summer," the source said.