Exclusive
Wish Missed: Miley Cyrus Ruins 7-Year-Old Cancer Patient's Make-A-Wish Moment, Family Demands Re-Do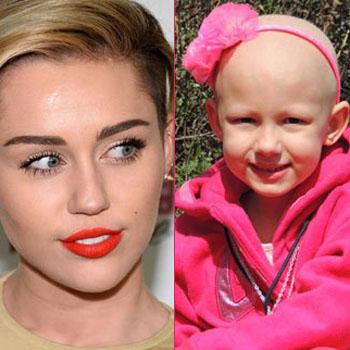 As seven-year-old Miley Hodge battles the deadly Stage IV Osteosarcoma, an aggressive form of bone cancer, doctors told her family last December that she had just four-to-six months to live.
Facing their final months together, they reached out to Make-A-Wish, who granted little Miley the chance to meet a celebrity of her choice.
Unable to get her first wish – Justin Bieber – Hodge decided to meet pop star Miley Cyrus, but as RadarOnline.com has exclusively learned, unfortunately, the encounter didn't go as planned!
Article continues below advertisement
"From what I know, it was not a very good experience for them," a family friend, told RadarOnline.com.
Another family acquaintance added: "The family went to Los Angeles and were put off for nearly a week before they met Cyrus. They finally met at the recording studio and from what I understand, Cyrus was more interested in what she was doing in the studio than paying attention to the little girl."
When approached for comment, Miley's dad Bert insisted the family was "grateful for the chance to meet Cyrus in person."
"My daughter met one of her idols. Period," he insisted.
But with one wish granted, Hodge's family wants to give their little girl what she's wanted all along – the opportunity to Bieber.
"She loves Justin, his music and that he tells her never to give up on her dreams. Her dream is to meet him one day, only she doesn't have many days left," the pal said.
Article continues below advertisement
Tweeting #JustinMeetMiley and recently #Pray4Miley, her family – along with the organization Believe4Children -- are hoping to get Hodge's wish granted.
In the past month, big name celebrities like Diddy, Tara Reid and Kelly Osbourne along with Bieber's BFF Milk Tyson have helped get the "Baby" singer's attention about meeting Hodge.
"I think that if she wants to meet 50 celebrities, she deserves that chance. She has fought hard to stay alive. She has beaten the odds, and hasn't gave up," Hodge's dad said.
Another family friend confided: "She doesn't have much time left. She is an amazing girl. She is always smiling and wants to make sure everyone else is ok. When she hasn't been in the hospital, she's gone back to visit other patients who are there. Now, we're hoping to make her dream of meeting Justin Bieber come true."
The Make-A-Wish foundation didn't return a request for comment.