'Our Baby Has Died': Inside Michelle Duggar's Heartbreaking Miscarriage Nightmare -- New Details Revealed In Tell-All Book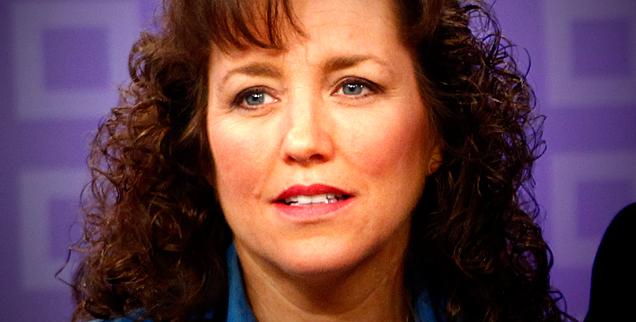 Despite the Duggar family's nineteen kids, when mom announced she was pregnant again in the summer of 2011, her brood was still over the moon. But that baby joy would quickly turn to bitter heartache when Michelle found out the baby had died in her womb.
Now for the first time, her daughters Jana, Jill, Jessa and Jinger are opening up about their family's struggle during that painful period in their new book, Growing Up Duggar.
Article continues below advertisement
The girls remember their initial excitement at the news that they'd be getting yet another sibling. "If the baby wa sa girl, then we girls would be celebrating that the Duggar tribe would finally be split evenly into ten girls and ten boys," they explain. "If it was a boy, we would celebrate a happy change of nursery colors after the birth of four baby girls in a row."
When Michelle and Jim Bob came home from Michelle's twenty-week ultrasound, they "were pelted with eager questions as soon as they came through the door. Then, when we'd all settled down, Daddy said softly, 'Mama …'"
Michelle Duggar's Miscarriage Tragedy To Be Aired On 19 Kids and Counting
"Mama smiled a sweet smile and said, as tears welled up in her eyes, 'We had the ultrasound … and there was no heartbeat," the 19 Kids & Counting stars reveal. "'Our baby has died."
"We were stunned. Speechless," they remember. "The baby brother or sister we had so looked forward to holding and playing with …was gone. There was no holding back the tears as Mom shared the story of how the technician had started the ultrasound, how she had looked and looked at the screen, how she had paused and turned to them, looking so sad, and said, 'I'm so sorry.' The doctor had confirmed there was no heartbeat."
Article continues below advertisement
Blindsided by the horrific news, the family bonded together in their faith, thanking God for "their unshakeable faith that they would see that child someday in heaven …" And together, they cried.
It's A Boy — TLC's Duggars Expecting First Grandson!
Days later, they were tested again when Michelle gave birth to the stillborn girl, whom they named Jubilee Shalom Duggar.
"She had beautiful blue eyes," the girls reveal, "and a very cute little Duggar nose. She looked perfect in every way."
The family held a memorial service for the baby a few days later. "In the months since," the girls write, "we have seen how God used Jubilee's short life and our big family's love-filled reaction to her death to remind people of the true value of life, born and unborn. … The experience encouraged us to love each other even more, underscored our belief in the value of each life, and challenged us to take every opportunity to invest ourselves in each other, realizing we may not have tomorrow."