Exclusive
Marilyn Monroe, JFK & Robert Kennedy 3-Way Sex Tape Could Be Worth $10 Million, Porn King Declares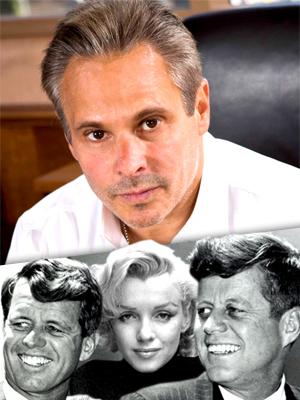 Article continues below advertisement
"If it's legit and we can distribute it, it will be a massive bestseller," Vivid CEO told RadarOnline.com exclusively.
"The pieces just don't add up and I'm more than a little skeptical. In fact I want to be the first to screen it and if it's real I'll pay $10 thousand just for the privilege of seeing it. What's the value of the movie if distributed on the open market? $10 million minimum and probably a lot more."
RadarOnline.com broke the story: The steamy, never-before-seen reel was scheduled to be auctioned by the Tulare County Sheriff in California on Tuesday, which had been seized the property as part of a lawsuit involving the man, William Castleberry.
However, late Monday, Castleberry was able to pay off the outstanding $200 thousand judgement against him and the alleged sex tape, along with other Hollywood memorabilia, was slated to be returned to him.
Article continues below advertisement
He was slapped with a judgment of $200,000 after he allegedly sold a fake statue to several people in Visalia, Calif.
Castleberry had been making payments to satisfy the debt, but according to Castleberry, lawyers demanded a balloon payment that he simply couldn't afford to pay — until a white knight came forward and rescued his prized loot.
"They demanded a $90,000 payment I couldn't afford and that is when the sheriff came in and seized the sex tape and all of my other memorabilia I have been collecting my entire life," Castleberry previously told us.
Questions about the legitimacy of the tape have been raised, with several sources reaching out to RadarOnline.com to suggest it simply does not exist.
"William's sex tape of the Kennedy's and Marilyn doesn't exist," said one. "There is absolutely nothing on the 8 mm tape and nothing is visible. Most of his collection is also fake. People should be very, very careful before bidding on any purported memorabilia."
Castleberry denied that anything in his collection is fake, "No way. The tape is real and so is everything that the cops took."
We reached out to Castleberry again on Tuesday but he did not return our calls.