Exclusive
Is It Real? Famed XXX Company Passed On Marilyn Monroe, JFK & Bobby Kennedy 3-Way Sex Tape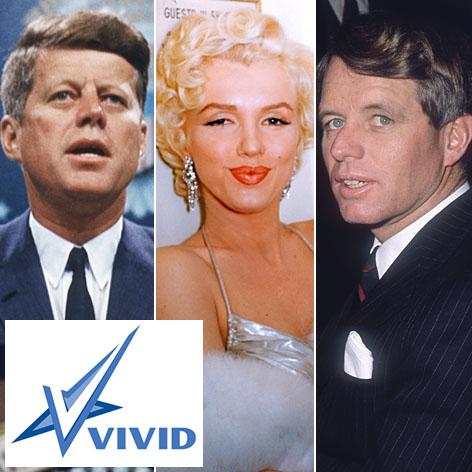 Article continues below advertisement
The steamy, never-before-seen reel —said to have been shot on 8 mm film — will be auctioned by the Tulare County Sheriff in California which has seized the property as part of a lawsuit involving the man, William Castleberry.
"Steve was offered the opportunity to purchase the sex tape, along with all of the other memorabilia that was taken from William's house. He would have had to buy the entire lot going up for auction at $200k, without having the opportunity to watch the sex tape," a source told RadarOnline.com.
"There was absolutely no guarantee that the sex tape was authentic, or real, so Steve passed. He has no interest in Hollywood memorabilia. It was a no brainer for Steve, and he said no."
Castleberry, a 56-year-old memorabilia collector, would not detail how he obtained the alleged recording or what it depicts.
He was slapped with a judgment of $200,000 after he allegedly sold a fake statue to several people in Visalia, Calif. He had been making payments to satisfy the debt, but according to Castleberry, lawyers demanded a balloon payment that he simply couldn't afford to pay.
Article continues below advertisement
"They demanded a $90,000 payment I couldn't afford and that is when the sheriff came in and seized the sex tape and all of my other memorabilia I have been collecting my entire life," he said.
Rumors have run wild for decades that the blonde bombshell, who died in 1962, had affairs with both Kennedy brothers.
What's more, last June, it was revealed another former Hollywood private investigator had previously admitted to spying on the famous duo — JFK and Monroe — during their romance.
MORE ON:
Vivid Entertainment
A lawyer involved in the case confirmed he'd heard that the seized lot apparently contained the sex tape of the Gentlemen Prefer Blondes actress.
"I was told several years ago that Mr. Castleberry had a sex tape of Marilyn Monroe, JFK & RFK," said attorney Ryan Sullivan, who is representing the plaintiffs in the case against Castleberry.
"I was at the house when the sheriff was seizing the property. I'm simply trying to recover the money for my clients… I was able to locate a 8 mm film in a canister at the house, which was turned over to the Visalia Sheriff's Department."
Article continues below advertisement
But, cautioned the lawyer: "I have no idea what is on the tape, it could be what Mr. Castleberry says, or it could be a Disney cartoon. The only way anyone will ever know is if they buy it and view it. The entire lot will go up for auction on Tuesday and the minimum bid will be $200,000."
Meanwhile, several other sources have reached out to RadarOnline.com and told us, "William's sex tape of the Kennedy's and Marilyn doesn't exist. There is absolutely nothing on the 8 mm tape, and nothing is visible. Most of his collection is also fake...people should be very, very careful before bidding on the purported memorabilia."
Castleberry denies that anything in his collection is fake, "No way...the tape is real and so is everything that the cops took."
Steve Hirsch didn't immediately respond to request for comment.