We Have A Hairy Situation! Madonna Posts Photo Of Her 'Long' Armpit Hair, Declares She 'Don't Care'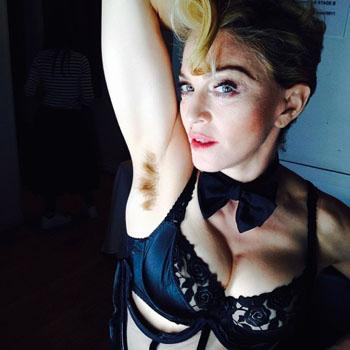 Madonna shocked fans when she posted a photo proudly showing off her hairy armpits on Thursday.
The controversial pop icon, 55, captioned the unusual snap declaring, "Long hair...... Don't Care!!!!!! #artforfreedom #rebelheart #revolutionoflove.''
The singer raised her arm to display the underarm hair, while wearing a revealing black lacy corset.
Another Instagram caption revealed that Madonna was doing a photo shoot for L'Uomo Vogue.
Article continues below advertisement
It appears that even as a teen, Madonna let her underarm hair grow.
"Going to high school, I saw how popular girls had to behave to get the boys. I knew I couldn't fit into that. So I decided to do the opposite," she told Harper's Bazaar in December 2011. "I refused to wear makeup, to have a hairstyle. I refused to shave. I had hairy armpits."
Madonna's racy social media snaps are becoming more and more regular.
In one post, which was later deleted, Madonna was decked out in fishnet tights and a thong, showing over her backside.
She captioned the snap: "Looking for Love in all the wrong places! Fear makes you focus... #rebelheart."